Kings Norton Service Advisor Helps Make Violet's Dream Come True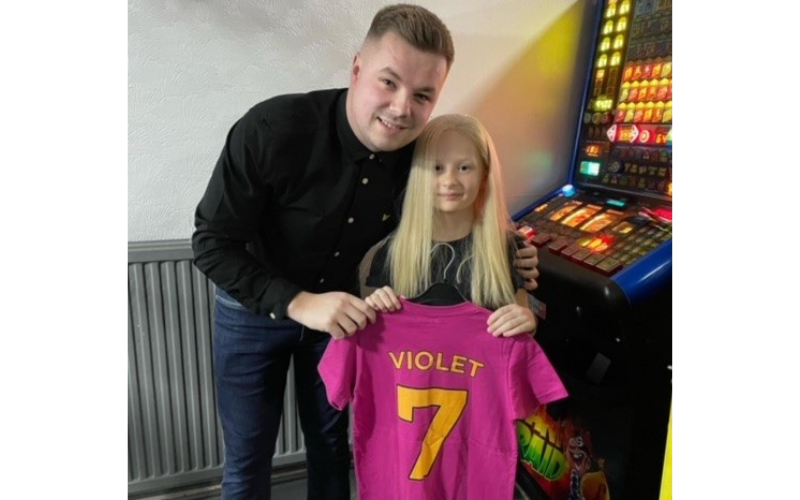 A colleague at Bristol Street Motors Kings Norton Ford is helping make a dream come true for a seven-year-old girl with cancer.
It is a wish of Violet Westwood, who has acute leukemia, to go to Disney World in Florida. Violet, of Halesowen, would also like to say thank you to Birmingham Children's Hospital, where she is being treated.
Matt Bennett, who works as a Service Advisor at the Bristol Street Motors dealership, spotted a GoFundMe page on Facebook, which was asking for donations to help get Violet to America. He got in touch with Violet's mum Rebecca straight away to offer his help.
Matt has worked tirelessly to bring money rolling in, with the total now standing at an amazing £30,180.
Matt reached out on social media, particularly on Twitter, where he has attracted the attention of England football stars James Maddison and Tyrone Mings, who between them have contributed £4,500.
James also invited Matt, Violet and her mum Rebecca to meet him in person and attend one of his Leicester City Football Club games as VIP guests.
A host more footballers have also supported the fundraising campaign including Alan Shearer, Robert Snodgrass, Jordan Hugill, Conor Townsend, and Dara O'Shea.
Snooker champion Neil Robertson even sent a personalised video wishing Violet all the best, as well as making a donation.
Matt Bennett of Bristol Street Motors Kings Norton Ford said: "The amount we have raised for Violet is incredible.
"At the start of this fundraiser, I would never have imagined we would receive this much response.
"Rebecca, Violet and family are overwhelmed with people's generosity, which means that Violet's wish of going to see Mickey and Minnie Mouse in America is going to come true.
"Any additional funds will be donated to Birmingham's Children's Hospital, where Violet is receiving first-class treatment."
Rebecca said: "Without Matt's fantastic help, and the kindness of so many other people, we would have not been able to hit such an amazing total.
"We are delighted that, as well as making Violet's dream come true, we are able to give something back as a thank you to the hospital where she has had been cared for by wonderful and caring staff."
Robert Forrester, Chief Executive of Bristol Street Motors said: "Matt has done a fantastic job in helping raise money to make Violet's dream come true. I have been so impressed with his dedication and had no hesitation in making a £500 donation from the company to support the fundraising."
Violet was diagnosed in April last year and will undergo treatment until April 2023.
To make a donation and follow the fundraiser please visit: https://gofund.me/5db5ccb7
To follow Matt's progress, visit: www.facebook.com/BSMFordKingsNorton/
Twitter: @MattyBWba96