Macklin Motors Glasgow Colleagues Receive National Recognition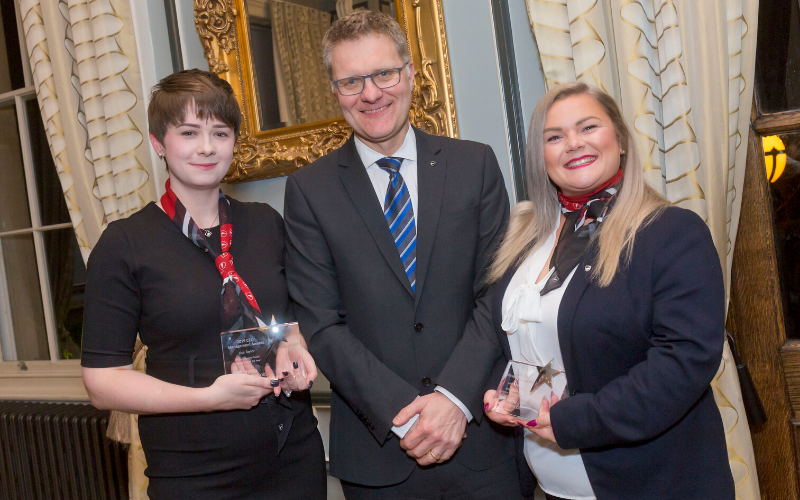 Lisa Taylor, dealership accountant at Macklin Motors Glasgow Nissan South, has been recognised for her 'energy, enthusiasm and can-do attitude' with a national award.
She was named ''Accountant of the Year' at Vertu Motors plc's CEO Awards. Colleague Louise Hylands received the accolade of 'Workshop Controller of the Year'.
The awards recognise the company's top-performing colleagues from each area of the business, who have delivered exceptional performances and produced outstanding results.
Lisa's nomination stated that 'Lisa has worked tirelessly to develop her financial expertise' and 'is now an integral part of the management team.' Lisa was praised for her 'driven, no-nonsense and can-do attitude along with clear alignment to the company values.'
Louise was described as 'taking the lead in helping to develop the skills of the service advisors to run their own teams of technicians but also in keeping the actual workshop flowing.' 'She also remains in touch with the quality of work which also contributes towards customer experience being above national average performance consistently.'
Vertu Motors chief executive, Robert Forrester, hosted the awards at the 18th Century mansion, Oulton Hall in Leeds, as the motor retailer rewarded the efforts of its colleagues.
Robert reviews each individual nomination before personally selecting the top performers in each area of the business and deciding who wins one of the nine different category awards.
Robert Forrester said: "Lisa has been proactively supporting the growth of the dealership and taken the lead on key Group initiatives.
"She has gone from strength to strength in her career, achieving promotions and is a worthy winner of the award.
"Louise has a firm career path at Vertu Motors. She has graduated from the Vertu Motors Aftersales Evolution programme and now has her sights firmly set on becoming a service manager. Louise is a talent who has a great future ahead of her."
Lisa said: "I am so proud to have been recognised in this way. Vertu Motors is a hugely supportive employer and I have enjoyed the challenge of taking on a new role and expanding my knowledge and experience."
Louise said: "This is a fantastic award and I am delighted that the Group has chosen me to receive it. The support and training within Vertu Motors are second to none and I am determined to progress to the next level."