Motor Dealership Colleagues Get A Coating Of Many Colours In The Name Of Charity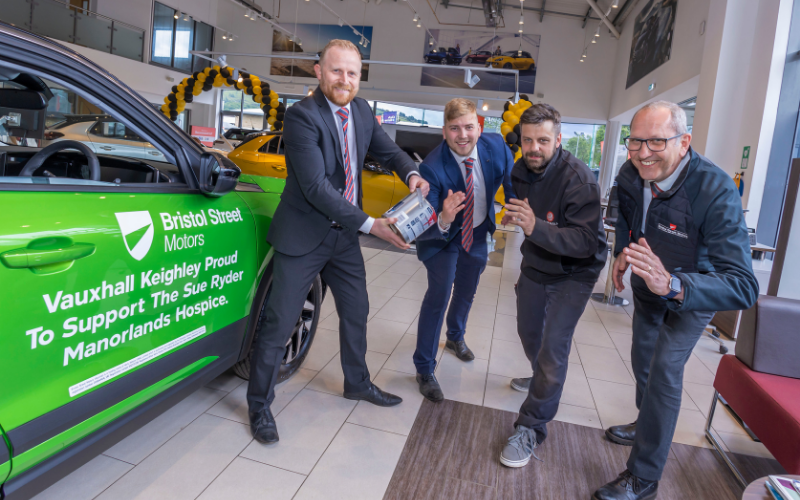 A team from Bristol Street Motors Keighley Vauxhall painted part of the town red – and a myriad of other colours – all in the name of charity.
Dealership colleagues took part in a PaintRush run in aid of the Sue Ryder Manorlands Hospice in Oxenhope, raising £220.
General Manager Ryan Slater, his wife Frances and their children, plus Sales Executive Liam Bonser and Senior Technician Steve Utley all took part in the event which the dealership also supported with a further £500.
Ryan said: "Sue Ryder Manorlands Hospice makes a huge difference to people and their families who are going through a traumatic time in their lives.
"At Bristol Street Motors Keighley Vauxhall, we are very community-minded and always are keen to step up and support local worthy causes that have a significant impact on the local area.
"We had an amazing day although I think we all underestimated just how much paint there would actually be!"
Liv Moffat, Community Fundraiser, said: "It was fantastic to have Bristol Street Motors Keighley Vauxhall as one of our sponsors for the PaintRush in June, and it's great that colleagues took part in the event too!
"We're incredibly grateful for the support that Ryan and the team are showing us; it allows our specialist teams to be there, when it matters, to provide expert care to those who need us most."
Along the route there were seven paint stations, which coated participants in a different brightly coloured paint. There were also obstacles along the route to make it even more fun and challenging.
Sue Ryder supports people through the most difficult times of their lives. It offers a range of support to people, from inpatient care in our hospice, to day services and Hospice at Home, which helps people stay at home longer and provide respite to carers. It also provides bereavement support, helping people manage their grief when they've lost a loved one.