National Accolade For Bristol Street Motors Exeter Motor Professional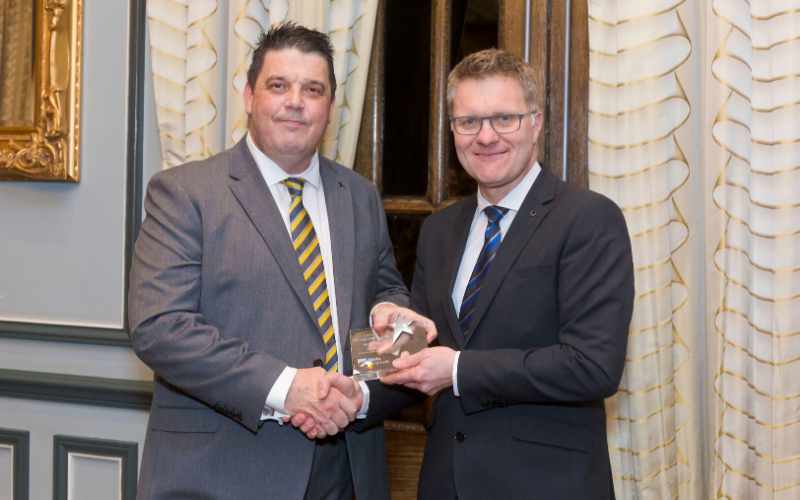 Marc Orton, parts manager at Bristol Street Motors Exeter Hyundai and Renault has received a national award for his performance.
Marc was named as 'Parts Manager of the Year' at Vertu Motors plc's CEO Awards. The awards recognise the company's top-performing colleagues from each area of the business, who have delivered exceptional performances and produced outstanding results.
The nomination noted that 'Marc demonstrates the values on a day to day basis and runs a very tight ship with a great ethos at all his sites. He constantly achieves and exceeds his yearly objectives and always has colleague welfare high on this list of objectives.'
Vertu Motors chief executive, Robert Forrester, hosted the awards at the 18th century mansion, Oulton Hall in Leeds, as the motor retailer rewarded the efforts of its colleagues.
Robert reviews each individual nomination before personally selecting the top performers in each area of the business and deciding who wins one of the nine different category awards.
Robert Forrester said: "Marc works at the sites furthest away from our central team in Gateshead but has remained focused on the job in hand despite operating across three parts departments in three locations.
"His care for his colleagues' welfare is aptly demonstrated by the stability within his departments and his thirst for success shines through with the results he is achieving."
Marc said: "To be recognised for my contributions to the company is fantastic and very humbling. I'd like to thank my teams at all sites for their continued support and hard work and the operations directors for nominating me."