National Award For Exeter Accountant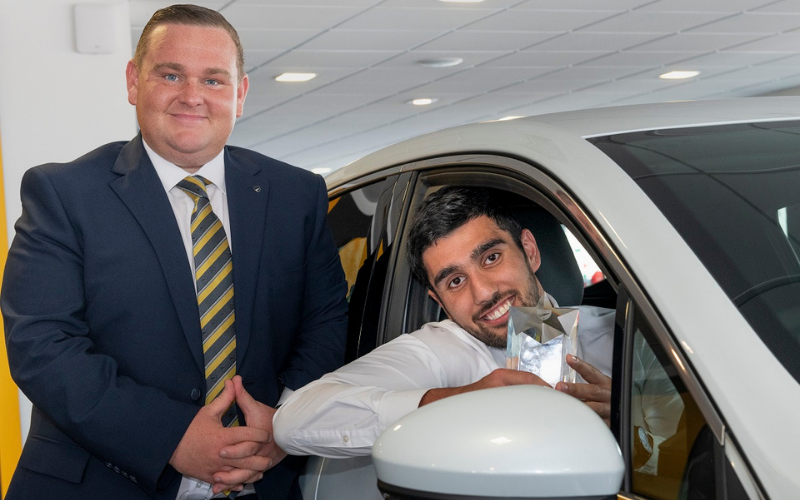 Keran Fletcher, an Assistant Accountant at Bristol Street Motors Renault Exeter, has been recognised for his exemplary performance with a national award.
He received the Masters Respect Award – awarded to the colleague who consistently demonstrates outstanding levels of respect in their role.
Keran was nominated by General Manager at Bristol Street Motors Renault Exeter, Daniel Mann who stated that "Keran is a role model employee. Not only is he currently undergoing his Vertu Motors training programme to become an accountant, but he has also taken on the role of health and safety co-ordinator this year alongside his training.
'He has done an excellent job with health and safety even when needing to prioritise his month-end tasks. He is respectful to all employees and suppliers; nothing is too much trouble for Keran and he will happily help anyone who needs assistance. He has also this year during the global pandemic taken on the role of assistant accountant for Renault Gloucester which is an additional workload and he hasn't questioned this once. He respects any decisions made and continues to impress. Keran is extremely professional and has an exciting career with Vertu Motors ahead of him.'
The Masters Awards recognises colleagues across the wider Vertu Motors Group, which includes 154 dealership locations. The Masters Club has inducted 15 new members this year, all who have excelled in their role and delivered outstanding levels of performance.
The winners were chosen from nominations made by their colleagues and included awards that reflect the company's values of commitment, integrity, passion, respect, and professionalism.
Robert Forrester, chief executive of Bristol Street Motors, said: "The Masters Awards are an opportunity for us to thank colleagues who go the extra mile, and in many cases do so over a very long period of time. Sadly, we have been unable to get together to celebrate their achievements with an awards ceremony, but this makes them no less important.
"Keran is an outstanding individual who has all the traits we look for in a colleague, including the five 'unteachables' of talent, drive, energy, attitude and character. I am delighted he has won this award."