National Award For Ilkeston Motor Dealership Colleague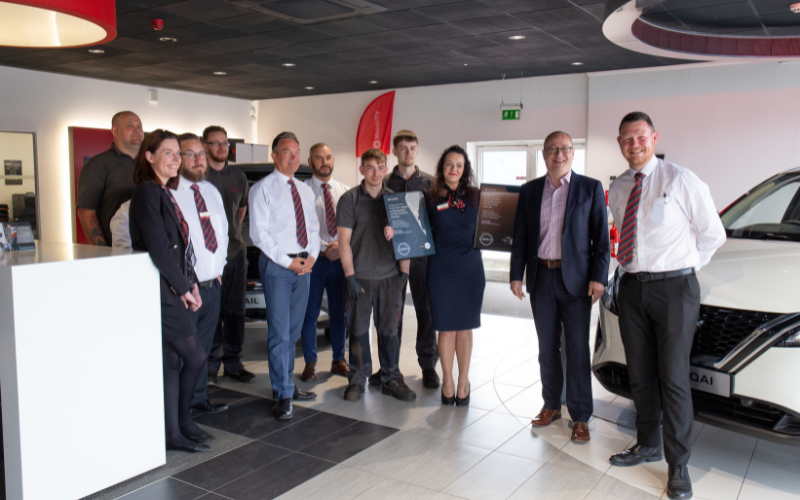 Melanie Hayes with her colleagues, plus Chris Marsh, Nissan GB Aftersales Director, second right; and James Ashley, General Manager at Bristol Street Motors Ilkeston Nissan, right.
Melanie Hayes, Motability Service Specialist at Bristol Street Motors Nissan Ilkeston, has been named Dealer Ambassador of the Year by the manufacturer.
She won the accolade following tough competition from the network of around 140 Nissan dealerships across the country – and also picked up a second award as Dealer Ambassador for Quarter Four.
The awards are given to an individual who has consistently provided excellent customer care and shown great attention to detail.
Melanie was nominated by Mark Boot, Aftersales Manager at the Derby Road dealership, who celebrated her can-do attitude to help others and the business. Mark praised Melanie's personality, enthusiasm and determination to deliver a great service to all their customers.
She also won praise for helping out in a number of different job roles at short notice to cover sickness and holidays – always with a smile on her face.
Throughout the year, Melanie and her teammates have received positive comments from their customers. One comment read: 'Melanie and her colleagues were helpful and professional. They kept us informed every step of the way.'
Another customer wrote: 'The service department at Nissan Ilkeston is a shining example, epitomising the Nissan brand; all the colleagues have excellent customer service skills – from Mark, the service manager who has the hands-on approach, not hiding behind a desk, to Darren who deals with customers in a courteous, professional manner, no matter what the pressure, through to the technicians and Melanie, who rings you before the appointment to make sure you are aware of everything that is going to happen. This branch needs Nissan recognition, especially the colleagues who make it.'
James Ashley, General Manager at Bristol Street Motors Nissan Ilkeston, said: "I am very proud of the whole team who always go out of their way to make the customer experience a fantastic one.
"Melanie is a shining example of this and thoroughly deserves this award. Congratulations, Melanie!"
Melanie Hayes said: "I am delighted and shocked to be given this award. I naturally like people and always want to give them friendly and professional service.
"The whole team here at Bristol Street Motors Ilkeston Nissan are focused on this, and it's fantastic to be recognised for our efforts. Thank you to Mark and to Nissan!"
In recognition of her achievement, Melanie was awarded 2,000 Nissan N-GAGE points – equivalent to £2,000 – as well as being given a special Dealer Ambassador email signature and logo to use.
She was presented with her certificates by Chris Marsh, Nissan GB Aftersales Director during a ceremony at the dealership. Mr Marsh praised the excellent levels of customer service delivered by Melanie and her colleagues and said: ''I want to say thank you to everyone for the contribution that you're making. Many congratulations, Melanie – this award is richly deserved and keep up the good work!''