National Recognition For Carlisle Car Dealership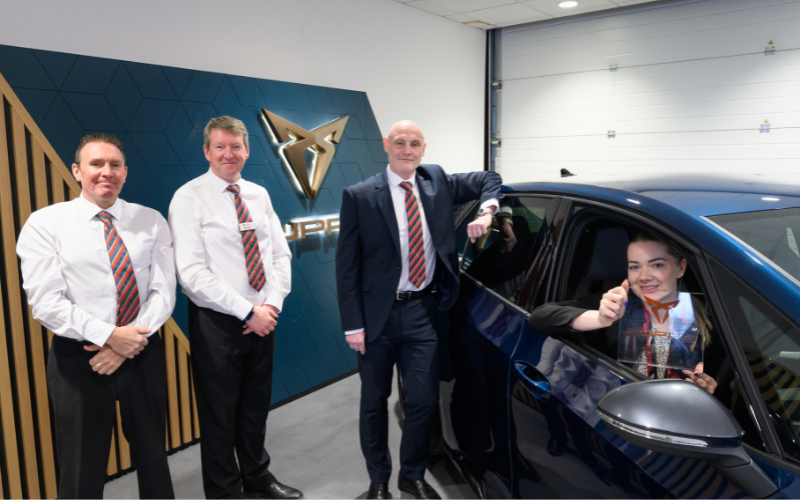 Bristol Street Motors Carlisle CUPRA has been named as runner up in the manufacturer's Dealer of the Year Awards.
The award is based on the performance of more than 60 CUPRA sites across the UK, including sales, order taking and importantly customer satisfaction. There was a particular focus on PHEV vehicles, with CUPRA set to launch its first all-electric car, the CUPRA Born, which will have a range of more than 260 miles.
CUPRA was launched as a brand by the Volkswagen Group four years ago and in 2021 tripled sales with 80,000 vehicles delivered.
Bristol Street Motors Carlisle CUPRA is managed by Andrew Brinsden and has a CUPRA specialist, Hayley Gibson, as part of its team.
Simon Horabin, Franchise Director for Bristol Street Motors CUPRA, said: "This is a fantastic achievement and testament to the hard work and dedication of the whole team.
"Hayley is a real ambassador for CUPRA, but all her colleagues have embraced the brand and the advances it is making, particularly the first electric vehicle CUPRA is shortly bringing to the market, which they are already taking orders for.
"I'm incredibly proud that not only has the dealership received this accolade, for a period that was challenging in many ways, but it is continuing to perform well in 2022. Well done to everyone!"
Robert Forrester, Chief Executive of Bristol Street Motors, said: "I was delighted to hear that our Bristol Street Motors Carlisle CUPRA has gained national recognition at CUPRA's Dealer of the Year Awards. What a testament to our team there.
"We have only had a CUPRA franchise in the city for a short period of time, but it has gone from strength to strength, delivering excellent performance and the levels of service our customers expect."