Peterlee Hyundai Dealership Is Best In The Country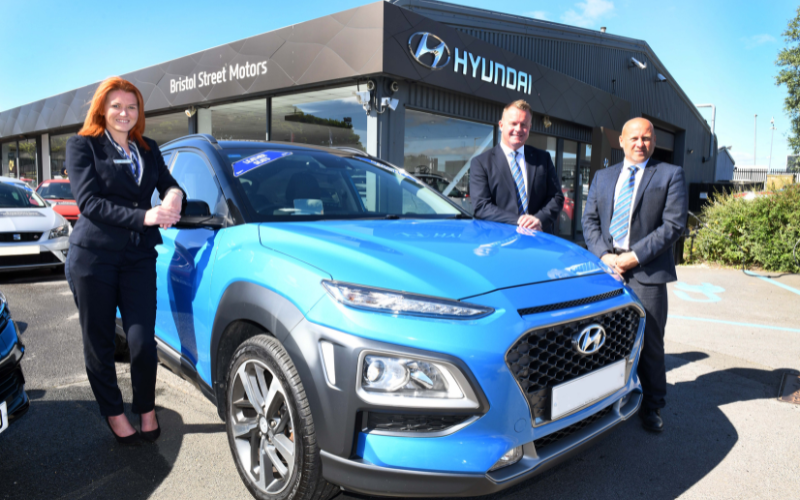 Bristol Street Motors Peterlee Hyundai has been named by the manufacturer as its top-performing dealership in the UK.
Throughout 2021, each of Hyundai UK's network of 148 dealers was evaluated in five key areas: new car sales, aftersales performance, customer experience, dealer profitability and alternative fuel vehicle sales. Bristol Street Motors Peterlee Hyundai triumphed above the rest, having been awarded the title of 'Best Overall Dealer'.
Hyundai Motor UK achieved its highest ever yearly market share in 2021, recording 4.23% of new car sales during 2021. Its fully electric models surpassed 10,000 registrations in 2021, with surging demand for the newly introduced IONIQ 5, the first model built on Hyundai's new E-GMP bespoke electric vehicle platform.
Paul Walton, Hyundai Franchise Director at Bristol Street Motors, said: "This is a fantastic achievement by the team at Bristol Street Motors Peterlee Hyundai. To be named as the top Overall Dealer in the country is something to be very proud of, particularly as it is judged across several significant areas.
"Excelling in the five key criteria set by Hyundai UK leads to exceptional customer experience and robust financial performance, which are important to the ongoing success of any dealership.
"I am very proud of the team in Peterlee, led by General Manager John Curry, Sales Manager Kevin Newell and Service Manager Alison Hicks; I congratulate the whole dealership on an outstanding year!"
Ashley Andrew, Managing Director of Hyundai Motor UK, said: "2021 was a fantastic year for Hyundai Motor UK, with nearly 70,000 cars registered and enormous demand for our plug-in hybrid and fully electric models.
"Our dealers remain an absolutely crucial phase in the sales and ownership process for our buyers; achieving record market share – as we did last year – simply wouldn't have been possible without their valuable support and dedication."