Talented junior sailor secures Farnell Land Rover support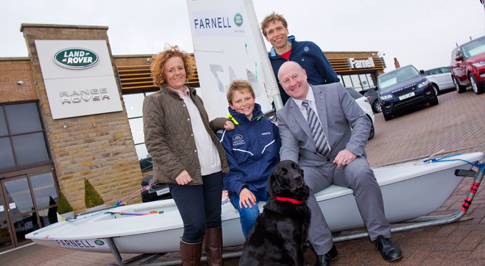 A promising young sailor has received a welcome funding boost ahead of his international competition debut.
Farnell Land Rover has pledged to support William Rowland, who will be competing in the Laser 4.7 World and European Championships.
At 12 years of age, William will be the youngest person to take part in the World Championships in Germany. He is set to carry the flag for Great Britain at the opening ceremony.
Farnell, which has Land Rover retailers in Bury, Nelson, Bradford, Guiseley and Leeds, has helped fund William's professional coaching for the World Championships as well as new equipment for his boat.
William learnt to sail at Hollingworth Lake in Littleborough at eight years old. At 11, he began sailing competitively for Lancashire Schools Sailing Association, he then bought a Laser 4.7 to sail in the North West Junior Traveller Series in which he came fifth place.
Since then William has competed in national sailing series The Gul Laser 4.7 Ladder, which hosts races all over the country including Weymouth, London and the Midlands.
Farnell Land Rover's support of William complements Land Rover's partnership with Ben Ainslie Racing, the 2016 America's Cup British entry. Land Rover BAR is made up of some of the most talented British and international sailors, designers, builders and racing support – all set up with the sole aim to win back the America's Cup after over 150 years.
Steve Thomas, the head of business at Farnell Bury said: "We are delighted to pledge our support of William as he continues to compete on a national and international level.
"Sport is close to our hearts at Farnell and we are proud to be able to support a talented young man in his mission to be the best.
"It's great to have to opportunity to give back to the local community. Commitment and passion are two of our company values that William embodies and we are looking forward to watching him progress.
"William is an incredibly talented boy and we wish him all the best in the World Championships."
William added: "The support I have received from the team at Farnell Land Rover has helped me upgrade my boat as well as my sailing skills.
"I am now fortunate enough to be working with a professional coach ahead of my entry into the World Championships later this year.
"Thank you to all the team at Farnell Land Rover for their support."