Vertu Joins The Scrum With Exeter Chiefs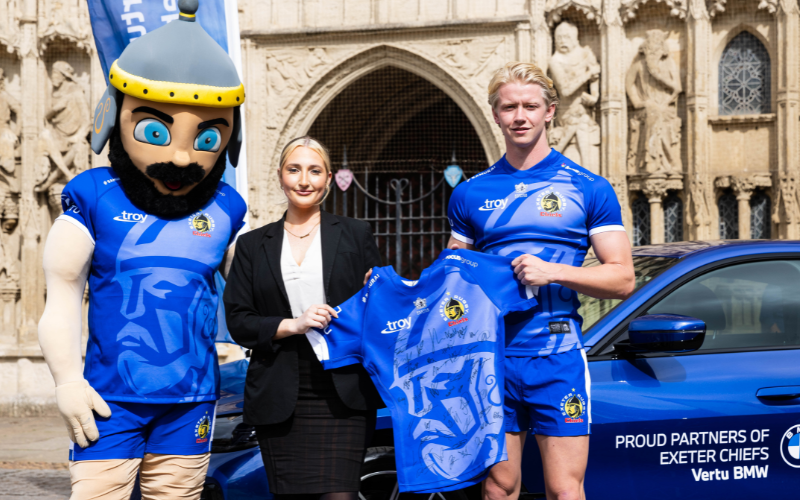 Vertu Motors is ready to tackle new heights as it throws its support behind Exeter Chiefs for the 2023/24 rugby season.
Vertu Motors, which has five dealership locations in the city, will be a prominent force at the Sandy Park stadium, the home of Gallagher Premiership action.
As an Official Partner of the Club, Vertu's branding will feature on the four corners of the ground. Big screen advertising, product placement and player appearances at Vertu Motors dealerships and events are also part of the deal.
In a thrilling play, the "Player of the Day" social media vote for both the Men's and Women's matches will now bear the Vertu Motors name, making every try and tackle even more exciting.
Last season, another of the wider Vertu Motors group's brands, Bristol Street Motors, put its weight behind the squad, with the transfer of the sponsorship reflecting the greater representation of the Vertu Motors retail brand in the area.
Robert Forrester, Chief Executive of Vertu Motors, said: "Vertu Motors is determined to be more than just a spectator; we want to be an active part of the communities we serve, and our sports partnerships play a key role in achieving this. We're thrilled to be an Official Partner with Exeter Chiefs, a Club that truly embodies the community spirit of rugby.
"Last year, we backed the Chiefs through Bristol Street Motors and found it to be a fantastic, mutually beneficial agreement. We were thrilled to have players engaging with fans alongside us at the Devon County Show. I am excited to see what we can do together this season."
Lisa Duncan, Director of Sales and Marketing at Exeter Chiefs, added: "We're thrilled to welcome Vertu Motors into our team of Official Partners. Aligning with like-minded brands is crucial for us to make a powerful impact together.
"Vertu Motors shares our ambition to collaborate with inspiring and leading brands, and their enthusiasm for Rugby Union makes this partnership a perfect match. We're looking forward to a victorious and enduring partnership."