Vertu Motors Supports Teesside Colleague's Fundraising Efforts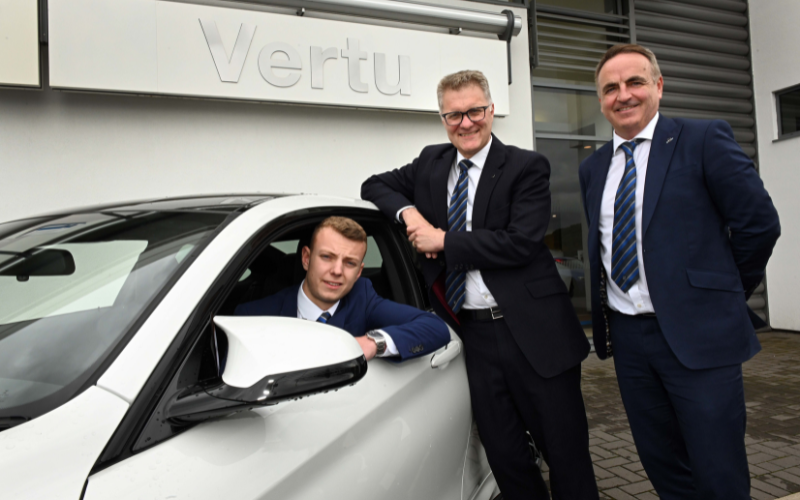 Vertu Motors is helping shine a light on suicide prevention after match funding a colleague's fundraising efforts for the Headlight Project.
Flynn Elliott, a Service Advisor at Vertu Teesside BMW, and his mother, Jo Elliott, who works for Wander Films, embarked on a challenging 12-mile night-time hike, symbolically walking from the Dark into the Light, in support of the Headlight Project and The Teesside Charity.
The brave duo undertook this remarkable journey to raise awareness and vital funds for mental health causes close to their hearts.
Through their night-time hike, they have raised more than £750 for The Teesside Charity and the Headlight Project, two organisations dedicated to mental health initiatives in the region.
Recognising the importance of their cause, Vertu Motors agreed to match the funds raised, further bolstering the impact of Flynn and Jo's endeavours.
The personal reason behind Flynn and Jo's determination to take on this unique challenge lies in their encounters with the harsh realities of mental health struggles. In 2019, when Flynn was just 15 years old, his best friend tragically lost his beloved 17-year-old sister to suicide. Witnessing the profound impact this had on his friend and his family, Flynn became determined to make a difference and shed light on mental health issues.
A year later, Jo experienced her own heart-wrenching loss when one of her oldest friends took their own life. Fuelled by their personal experiences, Flynn and Jo vowed help break the stigma surrounding mental health and suicide.
Mental health is a critical issue affecting millions worldwide, and the statistics underscore its urgency. In the UK alone:
- 115 people die by suicide every week, with 75% of those deaths being male (Office for National Statistics)
- 1 in 5 people experience suicidal thoughts (NHS Digital)
- 1 in 14 people engage in self-harm (NHS Digital)
- 1 in 15 people attempt suicide (NHS Digital)
- Males aged 45-49 have the highest suicide rate (Samaritans)
- 10% of young people self-harm (Mental Health Foundation)
Robert Forrester, Chief Executive of Vertu Motors, said: "Flynn and Jo's commitment to raising awareness for mental health and suicide is commendable. Their initiative to take on this hike will hopefully bring hope and support to many who may be struggling silently. Vertu Motors is proud to support them in this cause and will continue to champion mental health awareness."
Flynn Elliott said: "I have personally witnessed the pain that mental health struggles can inflict on individuals and families. It was crucial for me and Mum to step forward, to be part of the solution, and help create a more supportive environment for those in need.
"We are incredibly grateful for the support we have received from Robert, my colleagues here at Vertu Teesside BMW and the many others who have kindly donated."