Widnes Car Dealership Recognised For Motability Excellence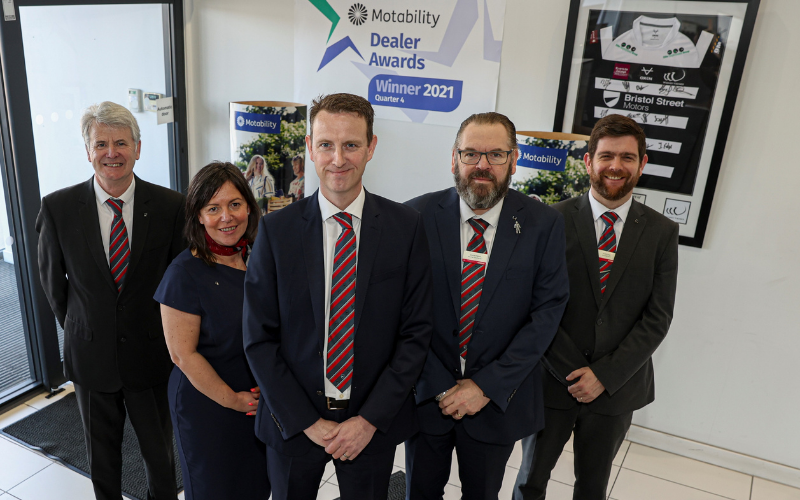 Motability Scheme customers at Bristol Street Motors Widnes Nissan can be sure they are receiving award-winning customer service after the dealership was acknowledged in the charity's Dealer Awards.
The accolade is part of a programme of awards run by Motability Operations, to recognise and reward outstanding customer service provided by Motability dealerships.
The Dealer Awards are judged on how a dealer delivers the Scheme to customers, which is assessed by customer feedback and reviews of their performance.
Philip Hawkins is the Motability specialist at Bristol Street Motors Nissan Widnes, working with customers to offer a range of vehicles including the Nissan Micra, Juke, Qashqai, and all-electric LEAF. The dealership also has a dedicated team of service advisors who are all accredited on the Motability Scheme; these advisors support customers in receiving the aftersales benefits during the whole term of the lease.
Robert Forrester, Chief Executive of Bristol Street Motors, said: "I am incredibly proud that Bristol Street Motors Widnes Nissan has been recognised for its dedication to delivering the Motability Scheme in such an exemplary manner.
"I am certain Phil, along with his sales and aftersales colleagues, will continue to provide the very best service to Motability customers, ensuring they receive the greatest help and advice possible."
James Horne, Dealer Partnership Manager at Motability Operations Ltd, said: "The focus of these awards is to thank our dealer partners for providing a consistently positive customer experience, after all, they are often the first point of contact for our customers.
"It's important for us to recognise those who go above and beyond when representing the Motability Scheme and highlight dealer partners who are setting a great example of how to do it well, like Bristol Street Motors Widnes Nissan. Many congratulations to them on their award!"
The Motability Scheme is available to anyone who receives the Higher Rate Mobility Component of the Disability Living Allowance, the Enhanced Rate Mobility Component of the Personal Independence Payment, the Higher Rate Mobility Component of Child Disability Payment (Scotland), the War Pensioners' Mobility Supplement or the Armed forces Independence Payment.
If you'd like to find out more about the Motability Scheme, visit https://www.bristolstreet.co.uk/motability/what-is-motability/