Arson-Hit School and Bristol Street Motors Support Struggling Foodbank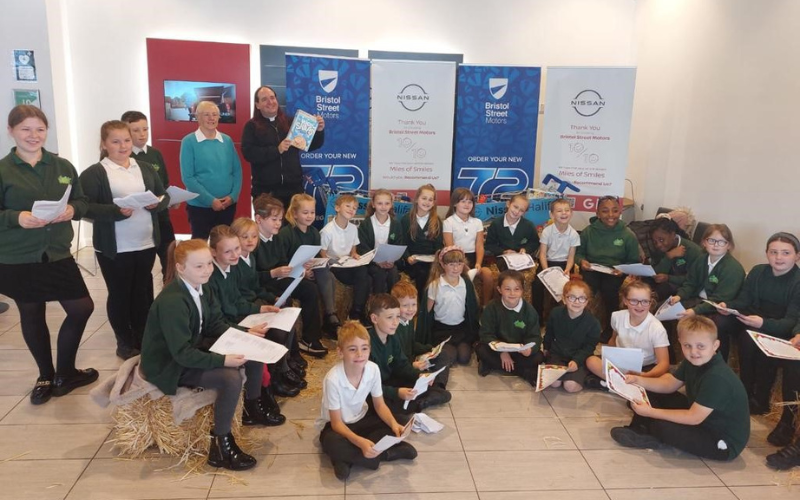 A struggling Halifax foodbank has received much-needed donations of food and funds after Ash Green Community Primary School and Bristol Street Motors Halifax Nissan joined forces to offer support.
Pupils from years four through to seven from the school, which suffered £4.5million-worth of damage earlier this year when it was hit by a teenage arsonist, held their Harvest Festival celebrations at the Shay Syke dealership to support Holy Trinity Church's food bank.
The food bank had been forced to pause its support of the community's most vulnerable after donations dried up. But, after providing the dealership with a list of the most needed items, received a bumper donation of goods from dealership colleagues as well as school pupils, which was topped up with a £500 cash donation from Bristol Street Motors.
The charitable partnership between the school and dealership began when the school was damaged in the fire. Kelly Sirmond, Bristol Street Motors Halifax Nissan's Vehicle Administration Manager and a former pupil, whose children also attended the school, arranged for children to receive Easter eggs and meet Halifax Panther players. She has continued to engage with the school since.
Jamie Priestley, General Manager at Bristol Street Motors Nissan Halifax, said: "Everyone at the dealership lives locally; we were all shocked at both the news of the fire and the food bank's struggles. Kelly was especially devastated and has been amazing at galvanising us all to chip in.
"I'm glad that we've been able to offer some support to Holy Trinity Church's food bank and Ash Green Community Primary School. Both play very important roles in our community and deserve the support of local people.
"My team at the dealership has been brilliant bringing in food for the food bank and joining in with the Harvest Festival songs at the school. I must also thank Bristol Street Motors for providing a cash donation direct to the foodbank, where it can be spent in the best way possible to benefit its users."
Kelly Sirmond, Sales Administration Manager at Bristol Street Motors Halifax Nissan, said: "I was gutted to see the school so damaged. Not only do my family and I have so many happy memories there, but so do many of my colleagues and their families. We were all devastated - especially because it impacts so many local people."
Jamie added: "Our work doesn't stop here. We're committed to continuing our community support and have a number of other initiatives planned, which will help vulnerable people in and around Halifax."