Birmingham Ford celebrates award win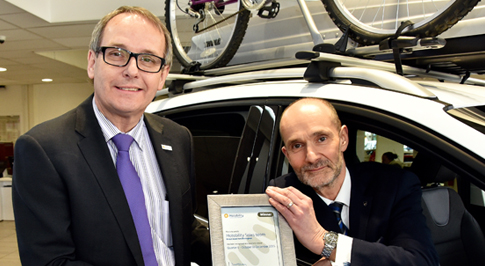 A Birmingham car dealership has won a regional award in recognition of its excellent delivery of the Motability Car Scheme.
Bristol Street Motors Ford Birmingham received the Motability Q4 Award for its work with the Scheme, which enables people in receipt of certain benefits to exchange those benefits for a lease vehicle. The accolade is part of a programme of awards launched in 2014 by Motability Operations to recognise and reward outstanding customer service provided by local Motability dealerships.
The Dealer Awards programme is designed to reward best practice and ensure all Motability customers receive exemplary customer service across the Motability Scheme's national dealer network. The Awards are judged on how a dealer delivers the Scheme to customers, which is assessed by customer feedback and reviews of their performance.
Bristol Street Motors, part of Vertu Motors PLC, also won the Website of the Year award for its Motability website at Motability's annual Dealer Awards. Vertu Motors picked up Dealer Group of the Year for the second year running in recognition of its excellence in the Motability sector.
Martin Leach, general manager atBristol Street Motors Ford Birmingham, said: "All of us at Bristol Street Motors Ford Birmingham are incredibly proud to win this Motability Dealer Award and are pleased to be recognised for our dedication to working in partnership with Motability Operations, which is renowned for its high standards.
"We look forward to continuing our award-winning approach to business and customer service and to welcoming many more Motability customers through our doors."
Peter Wilson, general manager dealer relations at Motability Operations, said: "The focus of these awards is to thank our dealer partners for providing a consistently positive customer service experience, after all, they are often the first point of contact for our customers. It's important for us to recognise our dealer partners who go above and beyond when representing the Motability Scheme and highlight those who are setting a great example of how to do it well, like Bristol Street Motors Ford Birmingham. Many congratulations to them on their award."