Birmingham Ford Newstarts van handover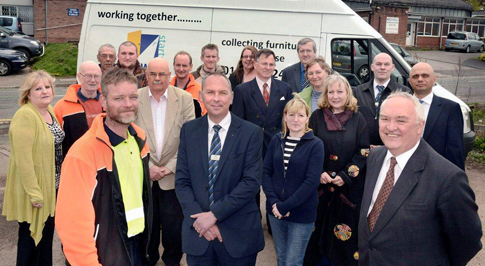 Community project NewStarts has been given a helping hand to provide a much-needed service for vulnerable people after taking delivery of a brand new van.
NewStarts, which is based in Bromsgrove, was in desperate need of a new van to assist with their furniture deliveries to individuals in difficult financial and often personal circumstances and to low-income families who are setting up a home.
With the van situation in mind and as a local business, the dealership on Battens Drive in Redditch, alongside Bromsgrove District Council, Worcestershire County Council, the Bromsgrove Housing Trust and West Mercia Police as well as local residents, helped the community project to obtain a brand new Ford Transit 350 High Roof van.
NewStarts provides help to those who are in financial crisis or who have recently been made homeless, to assist them in making a fresh start in a new home. The charity also offers emergency food through a food bank and works closely with social care agencies in providing this service.
Marion Kenyon of NewStarts, said: "Everyone here at NewStarts is very grateful to Bristol Street Motors, as well as Bromsgrove District Council, Worcestershire County Council, Bromsgrove Housing Trust and West Mercia Police and local residents for their help with the new van. We would not have been able to secure this van without their assistance, and we're very grateful to all involved."
"We have needed a new van for a while now and the Ford Transit is perfect – it's very spacious, reliable and fuel efficient, which makes our job easier when delivering large pieces of furniture, and also lowers our running costs, which means we can help even more people in need of a fresh start."
Paul Gething, General Manager of Bristol Street Motors Ford in Redditch, said: "Transport is vital to the service NewStarts provides to vulnerable people and as a local business which is part of the community here in Worcester, we are keen to do what we can to assist charities and projects like NewStarts. We have helped them find a van which is reliable, economical, and most importantly, which will last them for a long time to come and help them continue their vital work."