Brigg Woman Leaves Rare Honda To Mechanic Who Ended Up As A Friend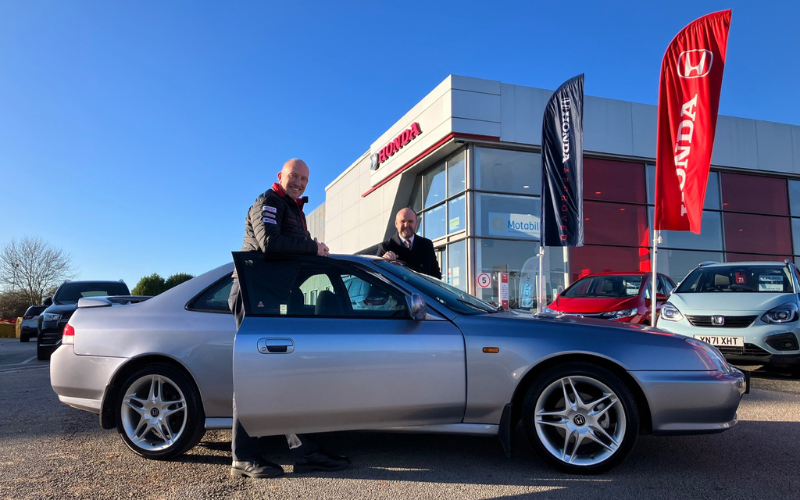 A long-standing customer at Vertu Honda Lincoln has left her pride and joy Honda Prelude to a colleague at the site after she sadly passed away.
Carol Russell, who was in her late 70s when she died, bequeathed the sports car, which was made by Honda from 1978 until 2001, to Aftersales Manager Jason Crookes. Over the years, the two - along with Divisional Aftersales Director Gavin Drakes - had become close friends.
Conversations about her car during servicing visits soon evolved into Carol stopping in for a coffee and a catch up, in addition to regular chats over the phone.
The first outing in the car for Jason, who personally serviced the vehicle for many years, was to carry out Carol's wishes and follow her funeral cortege from the church to her final resting place in Market Rasen, next to her beloved late husband Dick.
It was Dick who initially bought Carol the Honda Prelude, after she instantly fell in love with it within the showroom. She had been a Honda customer for more than 30 years and previously owned a Honda Civic Coupe.
Jason said: "Carol often joked during our weekly chats that she wanted me to make sure the Prelude followed her to her graveside, so I had to make sure that happened.
"I was overwhelmed when I was told she had left the car to me in her will. I plan to maintain the car as she did and use it as often as possible. Carol would have wanted this – she always said that it is a car for everyone to see and admire, not to be covered up in a garage.
"She will be greatly missed by me and everyone at Vertu Honda Lincoln. She always brightened up the day when she popped in and over the years, became more of a friend than a customer."
Carol is the second customer who has left a car to a colleague at Vertu Honda Lincoln, with Gavin Drakes being left a classic Honda CRX a few years ago.
Chris Taylor, Group Operations Director at Vertu Motors, said: "I'd met Carol on numerous occasions over the years since we opened the dealership back in 2000. Carol was a lovely lady who had a true connection to her Honda Prelude and loved her visits to Vertu Honda Lincoln.
"Carol valued her strong relationship with our team. We will all miss her."
Robert Forrester, Chief Executive of Vertu Motors, said: "This heart-warming story exemplifies the relationships we aim to build with our customers and the level of service we want to ensure they all receive.
"I am pleased that Carol's final wishes, regarding her Prelude, were honoured by Jason and supported by the team at Vertu Honda Lincoln. My condolences go out to Carol's family at this very sad time."