Bristol Street Motors backs Easington Colliery AFC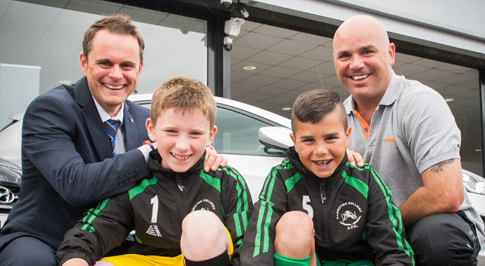 Up-and-coming football stars will feel the warmth when training and standing on the sidelines in adverse weather conditions for the 2013/2014 season, thanks to Bristol Street Motors Hyundai in Peterlee.
Newly-promoted Easington Colliery AFC Under-11 Boys will look the part in their new thermal coats, which will help keep them comfortable on cold Saturday afternoons, after the dealership, on the North West Industrial Estate, generously donated them to the club.
The squad, which has just been promoted to the second division of the North East Russell Foster Youth League, is made up of players from the Easington and Peterlee area.
Billy Taylor, General Manager of Bristol Street Motors Hyundai in Peterlee, said: "As an employer in the Peterlee area it is important to support the local community and we are delighted to be sponsoring the boys and kitting them out with some smart clothing that will keep them warm throughout the season and give them a very professional look too.
"We would like to wish Easington Colliery all the best going forward and hope the team can clinch promotion next season, after narrowly missing out this term."
The club trains once a week at Easington welfare grounds on Tuesdays, which is carried out by coach Stuart Hutchinson and managers Craig Parker and Paul Hartley.
Mario Micallef, whose son Wayne plays for Easington Colliery, said: "The club are really grateful for the support that the dealership has given the team. The thermal coats will provide the boys with some warmth on those winter afternoons and such a smart sponsor will give the boys a professional look. We thank Bristol Street Motors greatly for their kind donation.
"The team just missed out on promotion last season, but are raring to go for next year. We have seen a lot of positive changes at the club with some new management, so hopefully next season we can go one better and achieve promotion."