Bristol Street Motors Birmingham receives Fleet Award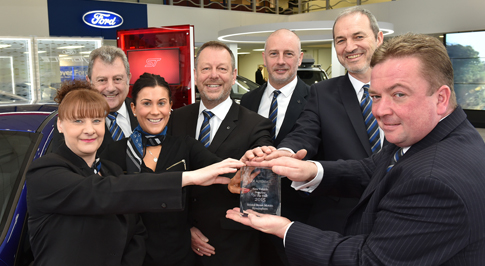 Bristol Street Motors Ford in Birmingham were delighted to be awarded Dealership of the Year Award from the UK's leading vehicle management and fleet funding specialist, Lex Autolease.
Lex Autolease, the UK's largest contract hire provider with a fleet of over 307,000 vehicles, presented the dealership with the award at this year's Lex Autolease annual Supplier Focus Day, citing Bristol Street Motors' proactive approach to customer satisfaction and consistent excellent performance throughout 2015.
The supplier event takes place each year and provides the leasing firm with a chance to update the supply chain on Lex Autolease's current performance and future strategy. It is unique in the fact it also gives the suppliers a rare chance to meet colleagues, competitors and manufacturers all at a single event.
Brian Naughton, General Manager Ford Fleet and Commercials in Birmingham, said: "It's been a great year for us and receiving this award has topped off 2015 brilliantly.
"We have had a fantastic working relationship with Lex Autolease for number of years. This year alone we have delivered over 850 new Ford vehicles with a number of high specification Commercial Vehicles and have consistently exceeded the target customer service satisfaction level set by Lex Autolease, so it's fantastic to have our hard work recognised.
"Ultimately we have won this award due to our team's commitment to customer service, which is always our number one priority when dealing with any customer, whether they are looking for one vehicle or thousands."
Janette Richardson, Senior Manager Purchasing and SMR, said, "This event is a great way to recognise our suppliers, and the key part they play in our business. We are extremely happy with Bristol Street Motors' consistent performance throughout the year, and look forward to continuing this relationship into 2016."