Bristol Street Motors Bolton has customer service recognised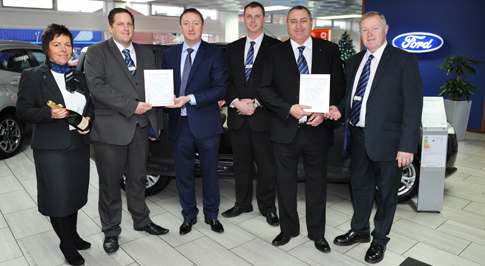 Bristol Street Motors Ford in Bolton has received an award from the Motability Car Scheme in recognition of its continued delivery of excellent customer service.
The Higher Bridge Street dealership recently passed another Motability milestone after selling its 5000th vehicle to become the largest Motability dealer in the North West.
The Dealer Award, which is part of a programme launched by Motability Operations, is assessed by customer feedback and reviews of the dealership's performance. It recognises and rewards outstanding customer service provided by Motability dealerships throughout the UK.
Peter Wilson, General Manager - Dealer Relations at Motability Operations, said: "The focus of these awards is to thank our dealer partners for providing a consistently positive customer service experience, after all, they are often the first point of contact for our customers. It's important for us to recognise our dealer partners who go above and beyond when representing the Motability Scheme and highlight those who are setting a great example of how to do it well, like Bristol Street Motors Ford Bolton. Many congratulations to them on their award."
Darren Murray, General Manager at Bristol Street Motors Ford Bolton, said: "Everybody at the dealership is extremely proud to receive this Motability Dealer Award. It's an honour to have been recognised for our dedication to customer service. We look forward to building on this success and continuing our award-winning approach to business and customer service."
The Motability scheme enables disabled people to exchange their Higher Rate Motability Component of Disability Living Allowance, their Enhanced Rate of the Mobility Component of Personal Independence Payment (PIP), their War Pensioners Mobility Supplement (WPMS) or their Armed Forces Independence Payment (AFIP) for a new car, scooter or powered wheelchair. Since it was set up in 1978, Motability has helped more than 3 million people get mobile with a brand new vehicle.
by: Laura Thomson