Bristol Street Motors Ford 'Best Dealership in Bolton'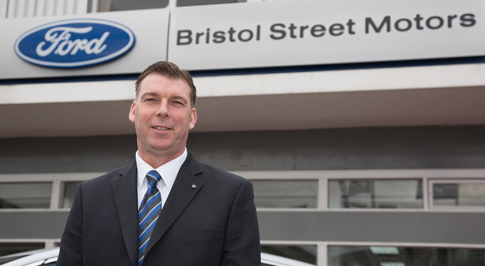 Independent research has shown that Bristol Street Motors is in pole position when it comes to customer service.
The multi-award winning Bristol Street Motors Ford Bolton is listed as the top rated dealership in the town by independent review website, JudgeService, which collects customer feedback across all areas of businesses, including the sales, aftersales and bodyshop departments.
The Higher Bridge Street dealership is rated the highest in the area, with previous customers describing the dealership as 'thorough, helpful, friendly, thoughtful' and 'professional'.
The site is also peppered with stories of the Bristol Street Motors team going above and beyond to provide excellent customer service, including staying late to accommodate a customer's busy schedule, and fast tracking Motability customers applications to help keep them independent and mobile.
With the rise of online retailers and the proliferation of private sellers, customer service has become more important for car retailers as competition increases. Bristol Street Motors has risen to the challenge by making customer service and satisfaction its number one priority. A fact echoed by their customer reviews.
Bristol Street Motors Ford Bolton is overseen by general manager, Darren Murray, who has more than 25 years' experience in motor retailing, during which time he has amassed a great deal of knowledge working across multiple departments and manufacturers.
The New Car Sales Department, led by Kenneth Rooney is able to work with customers to develop a unique specification that meets their requirements, along with a wide range of options on financial packages.
Late last year, the dealership was hand-selected by Ford to become one of the few FordStores in the North West. As a FordStore, the dealership is able to provide customers with exclusive offerings, such as the premium Mustang, Edge, Vignale, alongside with the usual range of Ford models.
In addition, Bristol Street Motors Ford in Bolton has a dedicated commercial vehicle team, which is led by commercial manager Andy Waring, and has a team of fully qualified technicians who are trained to work on Ford vehicles, as well as other makes of vehicle. The department has specialised workshop equipment, tools and training for all servicing and maintenance work, ensuring its business customers receive the very best customer service.
The transition into a FordStore was by no means the end of the investment at the dealership by Bristol Street Motors. The Higher Bridge Street dealership's existing showroom is set to be redeveloped, with the creation of new offices for colleagues and an additional space for display vehicles and improved customer facilities. The state-of-the-art showroom, which will be in line with Ford's latest franchise guidelines, will create a welcoming and comfortable space for customers, with an improved working environment for colleagues. A brand new showroom will be developed to house the dealership's commercial vehicle offering, while aftersales areas will be transformed to offer a convenient and efficient customer experience.
Motability customers are also well catered for at the dealership, which has one of the largest fleets in the North West, and recently sold its 5000th vehicle to become the region's highest-selling dealership in the scheme. This stands as testament to service delivered by Motability specialist Mike Donovan, who has collected a number of awards from the scheme in recognition of his customer service skills.
The Motability scheme enables disabled people to exchange their Higher Rate Motability Component of Disability Living Allowance, their Enhanced Rate of the Mobility Component of Personal Independence Payment (PIP), their War Pensioners Mobility Supplement (WPMS) or their Armed Forces Independence Payment (AFIP) for a new car, scooter or powered wheelchair. Since it was set up in 1978, Motability has helped more than 3 million people get mobile with a brand new vehicle.