Bristol Street Motors Hartlepool recognised by Ford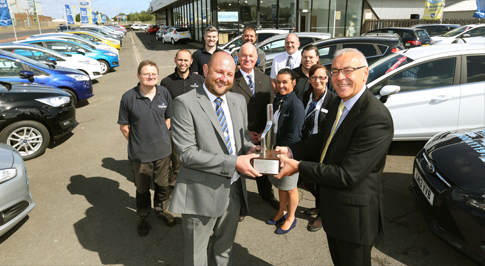 Bristol Street Motors Ford Hartlepool has been named as a winner of one of Ford's most prestigious awards – the 2015 Chairman's Award.
Ford Hartlepool was recognised at an award ceremony in Paris as one of the top Ford dealers across the country for delivering outstanding customer services.
The Ford Chairman's award is judged on extensive research, which is continuously carried out by Ford to assess exactly how customers feel about the quality of attention they receive from their dealer – whether buying a new car or having their vehicle serviced. For the winning dealerships this programme confirms they not only meet, but exceed their customers' expectations.
Graeme Dickens, general manager at Ford Hartlepool, said: "We are delighted and proud to receive the Chairman's Award. It is the ultimate test of the service we provide because it is judged by our loyal customers.
"It is a real tribute to the excellence and dedication of all our colleagues and a fitting recognition of their commitment to customer experience.
"However, we mustn't rest on our laurels. It's important that we build on this success and continue to deliver our award-winning services to customers."
Chairman and managing director of the Ford Motor Company, Andy Barratt, presented Graeme with the award. He said: "This award recognises the commitment and outstanding achievement of Bristol Street Motors Ford Hartlepool in 2015.
"Being a winner places this dealership amongst the very best in the whole of Europe. Its focus and ability to deliver excellence in customer experience, vehicle sales, finance penetration and parts sales helps to mark both the dealership and Ford out as market leaders."