Bristol Street Motors Inspires Young Women To Pursue Career Goals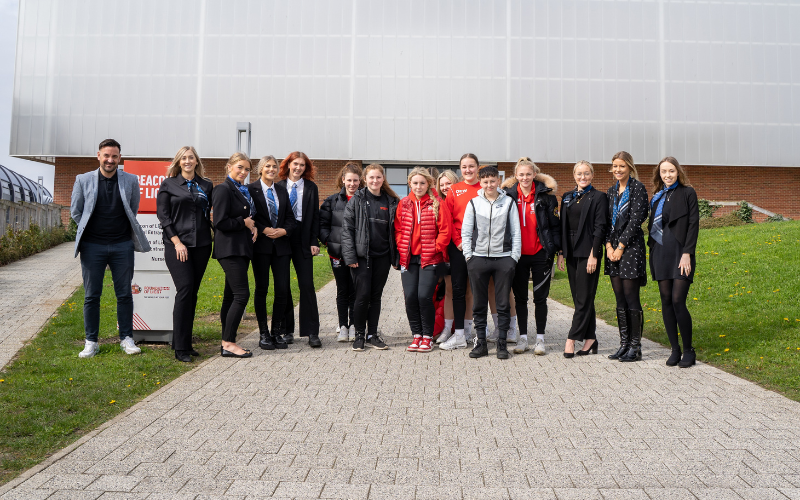 Bristol Street Motors is working alongside Sunderland AFC's Foundation of Light to help girls to set career goals, having donated £10,000 to support its World of Work skills programme.
As part of the collaboration, women working at Bristol Street Motors visited the Beacon of Light to speak to girls taking part in the World of Work programme, to highlight opportunities in the motor trade and explain their own career trajectory. This included colleagues in senior positions working at Bristol Street Motors' head office in Gateshead, as well as apprentices who are just beginning their careers.
World of Work is just one of the initiatives delivered by the Foundation of Light, Sunderland AFC's charity arm, which aims to help tackle some of the region's biggest challenges including social isolation, unemployment, food poverty and poor physical and mental health.
Part of Sunderland's local community, Bristol Street Motors has Hyundai, Peugeot and Vauxhall dealerships very close to the Beacon of Light, making the opportunity to support the Foundation an easy choice.
The £10,000 donation from Bristol Street Motors will be used to support initiatives that the Foundation delivers to local young women, with a range of participants set to benefit.
Karen Anderson, Chief Financial Officer at Bristol Street Motors, said: "We chose to make a donation because of the brilliant work that the Foundation of Light, and particularly the World of Work programme, does to help young women improve their outlook towards their professional careers."
"These are young women part of the same community that several of our dealerships reside within."
"We feel it is important that the girls know and understand the different opportunities for them in the motor trade. There are lots of different roles that they may not be aware of, and having some of our colleagues there, speaking with them face-to-face, gives us a great chance to educate them on the different and exciting avenues they can explore."
"Three of our apprentices came along and spoke about how their education is progressing. Because they aren't much older than the girls on the World of Work programme, it gives them a real understanding of what they could be doing in the not-too-distant future."
"Women are still outnumbered in the motor industry and although there's been lots of hard work that has gone into breaking down stereotypes, there is still more that can be done. We're delighted to be working with organisations like the Foundation of Light to do that."
Lesley Spuhler, Chief Executive of the Foundation of Light, is delighted to have Bristol Street Motors on board as a partner: "It's a wonderful chance for the girls that we work with to find out more about the opportunities available to them beyond the conclusion of their programmes with us."
"The session delivered by the team at Bristol Street Motors demonstrated to the girls how they got where they are today, and the types of careers available within their industry. It was inspiring to all."