Bristol Street Motors Macclesfield Vauxhall honours retiree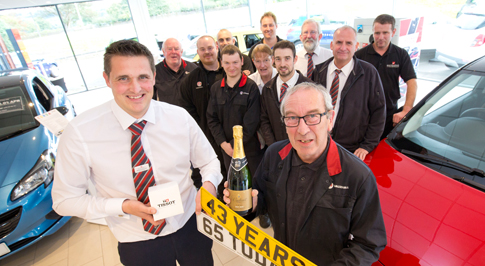 A driver at Bristol Street Motors Macclesfield Vauxhall has retired on his 65th birthday after 43 years of loyal service.
Steve Roberts has retired after entering the motor retail industry in 1973, aged just 16. A driver for most of his working life, Steve got his first break at an Arthur Royal dealer, where he spent three years before spending the rest of his career with Vauxhall.
At a celebratory retirement lunch, Steve's colleagues at the Lyme Green Business Park presented him with a watch in recognition of the time he spent with the dealership.
Steve is set to stay busy during his retirement, and according to long-term partner, Lynn, he already has a long list of jobs for him to do as they renovate their home.
Speaking at his retirement lunch, Steve said: "I'm so happy to have so many of my colleagues here to see me off. I've thoroughly enjoyed my time at Bristol Street Motors and everyone here is like family.
"I'm really looking forward to my retirement. I'm going to be kept busy with all jobs already piling up on my to-do list, but when I get a second I hope to devote more time to my hobbies; cycling and photography.
"I'll miss some parts of my job; meeting with customers, many of whom I've got to know over the years, and of course, the driving. However, I certainly won't miss the early mornings!"
Matthew Buckley, general manager at Bristol Street Motors Macclesfield Vauxhall, said: "Steve is a fantastic character and his presence will be sorely missed at the dealership. We wish him all the best in his retirement and hope he will pop in for a cup of tea when he's passing by."