Northampton welcomes Vauxhall competition winner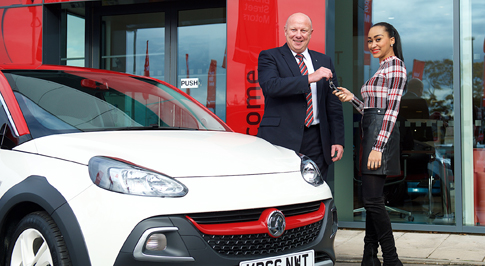 Bristol Street Motors Northampton Vauxhall has handed over the keys of a specially designed Vauxhall Adam to the winner of a national competition.
Akilah Bonfield, a 24-year-old interior designer from Northampton, picked up the keys to her personalised Vauxhall Adam from Bristol Street Motors Vauxhall Northampton, after her 'Beautiful Redhead' design was chosen by the British public as the best UK entry in Vauxhall's #ADAMYourself competition.
The #ADAMYourself competition was born because the Vauxhall ADAM provides customers with the perfect choice to personalise their car. To enter the competition, contestants had to design their favourite version of the Vauxhall Adam and submit it to the car manufacturer's website, where the public was able to vote for the winning design.
Once Akilah was announced as the winner, she was whisked off to Berlin by Vauxhall, where she was chauffeured to meet the other winners from Ireland, Poland and the Netherlands and together they took part in filming Vauxhall's latest commercial.
Explaining the rationale behind her design, Akilah said: "When I saw the #ADAMYourself competition advertised I knew I had to enter and put my design skills to the test. I love white cars and think they look the best on the road, but I also have a minor obsession with the colour red, so I had to use it in some way.
"I think the red roof contrasts fantastically with the white body and alloys, along with the grey accents on the bumper and wheel arches, which helps softens it to the eye and adds curb appeal. It's the perfect car for me and I'm so happy it's all mine!"
Although Akilah is now the proud owner of the world's first Vauxhall Adam Beautiful Redhead she won't be on the roads straight away as she still only holds a provisional licence: "I'm going to be finishing off learning in my new car so I have to be extra careful – it's my baby and I don't want to hurt it!"
Kevin Herridge,general manager at Bristol Street Motors Vauxhall Northampton, said: "We're so pleased to have been able to hand Akilah the keys to her brand new Vauxhall Adam. It's a cracking little car that she's designed and it certainly is a well-deserved winner of the #ADAMYourself competition."
Akilah added: "I'd like to thank Kevin and the team at Bristol Street Motors Vauxhall Northampton for looking after me so well. They were really helpful and made sure that I got my Adam delivered safe and sound, and were so pleasant every step of the way."