Bristol Street Motors Newcastle Vauxhall celebrate award win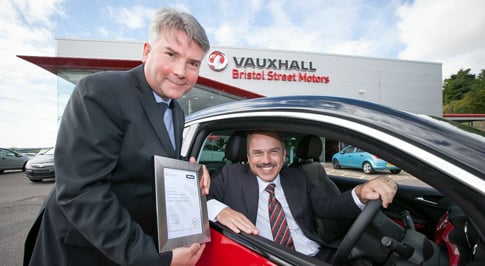 Bristol Street Motors Vauxhall in Newcastle is celebrating after winning a regional award for their exceptional quality of service, care and work with customers with disabilities.
The accolade, which is part of a new programme of awards to reward Motability dealerships, is designed to ensure all customers receive exemplary customer service across the dealer network.
Gavin Gray, Motability Specialist at Bristol Street Motors Vauxhall in Newcastle, received the honour on behalf of the dealership which is an award based on customer feedback and reviews of Motability performance.
All winners of the quarterly awards are automatically entered into the new national, annual awards which will be held for the first time in January 2014.
Gavin Gray, Motability Specialist at Vauxhall Newcastle said: "The award means a lot to me and the team. I love my job at the dealership and it is important to me that a customer is satisfied and wanting to use us again.
"Customer service is very important to everyone at the dealership and it is paramount that we build on this success and continue to deliver the best possible service we can. We are delighted with the regional award and hope to continue the hard work in the run up to the annual awards in January.
Peter Wilson, General Manager of Dealer Relations at Motability Operations, said: "As the 'shop-front' of the Motability Scheme and in many cases, the first contact point for our customers, the focus of these awards is to thank our dealer partners for providing an ongoing positive customer service experience.
"Our customers continually rate the service they receive at the dealership highly but there's always room for improvement and opportunities to learn from those who are doing it really well, like Vauxhall Newcastle. Many congratulations to them on their award win."