Bristol Street Motors Nottingham Hyundai Revs Up With Race Driver Sponsorship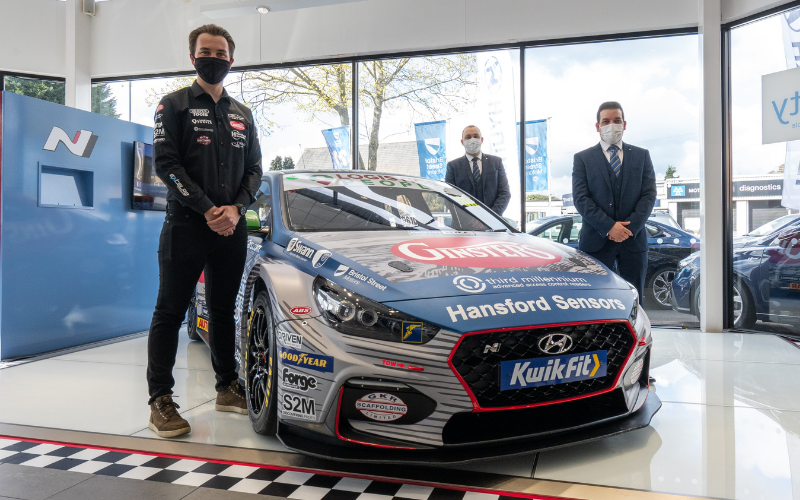 Bristol Street Motors Nottingham Hyundai has teamed up with British Race Car driver Tom Ingram.
Tom Ingram is a key member of the EXCELR8 Trade Price Cars line-up for the 2021 BTCC season after inking a multi-year deal with the Hyundai team. It will be Ingram's eighth year in the championship and his first with the new team. In the last seven years he has secured 16 race wins, 41 podium finishes, four pole positions and 13 fastest laps.
He will race the brand-new Hyundai i30N Fastback, which is being released in the next couple of months.
The Bristol Street Motors Hyundai logo will feature on the race car, demo car, race overalls and trucks. The sponsorship runs for the full British Touring Car Championships season, starting in May through till October. The first race of the season is at Thruxton in early May.
Tom and his team showcased the new car at the dealership recently, ahead of its media reveal and Tom will visit Bristol Street Motors Hyundai sites close to race locations throughout the season.
A newcomer to the market, Hyundai has been around for just over 50 years. It describes its founder entrepreneur Chung Ju-Yungs' 'can do' spirit as driving its thinking, with new and even more innovative models being launched regularly

In 2016 Hyundai launched IONIQ – the only car available in hybrid, electric and plug-in hybrid options. 2017 saw it premiere the i30 N, an exciting introduction into the world of high-quality performance vehicles. This was followed by the KONA electric, the first fully electric subcompact SUV in the European market.
Justin Iliffe, Branch Manager, Bristol Street Motors Nottingham Hyundai said: "We are proud and delighted to be sponsoring Tom. He is a talented driver, in a very exciting car who is expected to have a really good season.
"I know that Tom recently tested the Hyundai i30N Fastback and was really impressed with its performance. Feedback from our customers is overwhelmingly positive across the whole range. Although very few are actually racing drivers, the design and innovative specification are very well-received and we expect that working with Tom will further raise the profile of the brand, and our dealership."
Justina Williams, team owner at ExcelR8 Motorsport said: "We are delighted to continue with Bristol Street Motors as an EXCELR8 Team Partner for our 3rd season in the BTCC. Bristol Street Motors has been incredibly helpful to us, sourcing cars and parts for our Hyundai i30 Fastback N Performance BTCC car and we are looking forward to repaying this assistance with plenty of trophies in 2021!"

Tom Ingram added: "I'm really excited to work with Bristol Street Motors. Being able to reveal my new Hyundai i30N race car at the Nottingham dealership was a real treat and the perfect backdrop for the occasion. I have only been working with the team at Bristol Street Motors a short time but what I have noticed is that we share the same core values with passion and commitment being of absolute importance.
"I'm really looking forward to driving the Hyundai i30N as well as seeing that model on the road with brand association which is important. I have a good feeling it's going to be a great year for us both".