Bristol Street Motors Renault Exeter backs the Gulls
06/10/2016 10:34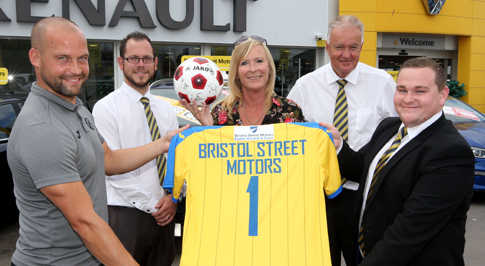 Bristol Street Motors Renault Exeter backs the Gulls
Bristol Street Motors Renault Exeter is throwing its weight behind Torquay United Football Club's bid for promotion.
The new partnership comes at an important time for the Gulls and will help fund players' travel to away games as they fight their way out of the National League
As part of the support deal the away stand at the team's Plainmoor home ground has been renamed the Bristol Street Motors Away Stand, and the dealership is featured on the team's home and away kit.
Daniel Mann, new car sales manager at Bristol Street Motors Renault Exeter, said: "We at Bristol Street Motors feels it's important to show our support for the local community and sport, and regularly do so through sponsorship and fundraising ventures.
"Torquay United has a loyal and committed fan base and I know they'll be backing them to the hilt in the race for promotion. It would be fantastic if they can do it this year and we'll be supporting them all the way."
Sharon Cox, commercial manager at Torquay United, said: "It's great to have the backing of Bristol Street Motors Renault Exeter. It's crucial that along with our dedicated fans, we also have support from local businesses and organisations."