Citroen Leicester introduces new team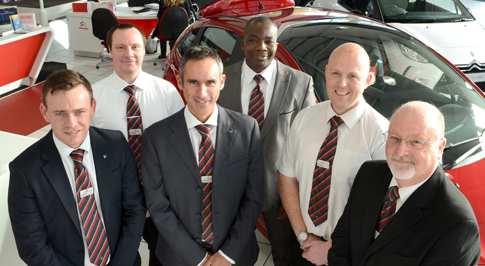 Bristol Street Motors Citroen Leicester has appointed two new sales executives to the team.
Paul Bruckshaw, 40, and Bryan Garland, 48, have joined colleagues at the Raw Dykes Road dealership, adding 20 years of sales' experience to the team of seven executives.
Paul, originally from Nottingham, has 10 years of sales experience, while Bryan, from Leicester, has been in the motor industry for 10 years.
General Manager Alan Kershaw, who has more than 12 years' experience in the motor trade, heads up the team, which offers customers the highest standards of service and gives expert advice to help customers find the perfect car for them.
He is supported by Business Manager Paul Burke, who has six years' experience in motor retailing, and can advise customers on a choice of finance packages available to suit a range of needs. Customers are encouraged to visit the dealership to discuss their options further.
Led by Service Manager Chris Holt, who has been in the car industry for 20 years, the dealership's comprehensive Aftersales department is available on-site with fully qualified technicians, who are able to offer a full service package on many models. The team, which includes Master Technician Kevin Walters, is trained in using the latest vehicle diagnostic technology for Citroen, and they are qualified to work on all other makes of car.
The dealership is an approved Motability dealer with the team able to advise on the Motability Scheme, which enables disabled people to exchange either their Higher Rate Mobility component of the Disability Living Allowance or their War Pensioners' Mobility Supplement to obtain a new car, powered wheelchair or scooter. Motability specialists familiar with the local area and the needs of Motability customers are on hand seven days a week to help customers make the right choice when considering a vehicle purchase. Customers can book an appointment or just drop in for an informal chat.
Alan Kershaw said: "I am really pleased to welcome Bryan and Paul to the team. We are excited about the future and the range of innovative new cars which will be available from Citroen.
"The dealership is a quality motor retail outlet offering customers from Leicester and the surrounding area the best value and the highest levels of customer service. We have experienced and knowledgeable colleagues at the dealership who are able to advise and help customers with their choice of vehicle, in order to find a model which is right for them.
"We are proud to offer customers a comprehensive buying experience which is followed through to our Aftersales department. Customer satisfaction is the most important value at our dealership and we encourage people to visit our site so we can assist them with all their motoring needs."