Colleague celebrates 40 years at Bolton dealership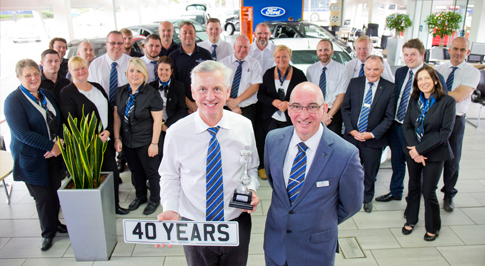 Bristol Street Motors Ford Bolton has celebrated the long service of parts adviser, Myron Smaczylo.
Myron was presented with a bespoke piston-shape award by Bristol Street Motors Ford Bolton's parts manager, Neil Walmsley, in recognition of his 40-year stint with the Higher Bridge Street Dealership.
Myron joined Bristol Street Motor's parts department as an apprentice parts person in 1976, when Ford's iconic Capri was at the peak of its popularity.
Myron said: "It's crazy to think I've been here for 40 years. It seems like only yesterday that I was beginning my apprenticeship.
"A lot has changed since I started in the Parts Department. Back then, if you wanted a part you had to ring around the suppliers to see what they had, but now a lot of it is digitised and parts catalogues are online.
"The most important part of the role, dealing with customers, remains the same. It's all about making sure you have the knowledge and can provide the best service as, quickly as possible so that customers leave happy and will return to the dealership.
"I love my job, but I especially enjoy the comradeship throughout the site. The team at Bristol Street Motors is like a family and we all help each other out."
Neil Walmsley said: "It's fantastic that Myron has been with us for so long. It just goes to show that if you enjoy your job, then it is never work.
"I hope Myron will be part of the team for many years to come. He's an invaluable part of our team and helps make sure the Service Department runs as smoothly as possible."