Dunfermline Ford bucks the trend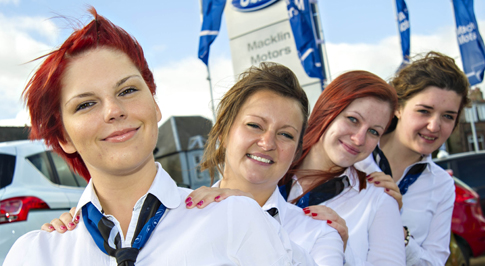 The motor industry is perceived as a predominately male orientated profession, but Macklin Motors Ford Dunfermline has bucked the trend with the addition of three women to its sales team.
The dealership on Halbeath Road now boasts a sales team that includes four women as the dealership recently appointed four new colleagues after a recruitment day, three of which were women.
Terrie Clarke, 25, was the first female to be recruited to the sales team in October 2012, after being recommended to the dealership by Business Manager, Tom Fairgrieve.
The trio of Kirsty Singleton, 20, Tamara Armour, 24 and Jenny Hutton, 25, have now teamed up with Terrie at the dealership after their successful applications.
Andrew Simpson, General Manager of Macklin Motors Ford Dunfermline, said: "All four of the new starts were the outstanding candidates for the positions and we are happy with the appointments. All three of them have settled into their roles superbly and are performing extremely well.
"They are all confident young women who conduct themselves in a professional manner and are really suited to the job as sales executives. They possess all the right skills required for this line of work and have hit the ground running.
"They all have bright futures in the motor trading industry and here at Macklin Motors."