Hospice hopes to replicate successful fundraising venture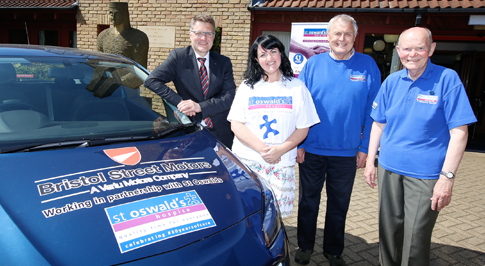 A trio of Bristol Street Motors dealerships in the North East have donated a brand new car to St Oswald's Hospice, which is to be raffled off to raise much-needed funds for the hospice.
Gateshead-based Vertu Motors plc, which owns Bristol Street Motors, previously donated a Honda Jazz through its North East Vertu Honda franchises. That raffle raised more than £46,000 for the charitable organisation and it is hoped this latest venture can replicate that success.
Bristol Street Motors dealerships in Hexham, Sunderland and Newcastle have banded together to donate a brand new Vauxhall Corsa, which will be used to tour the region promoting the raffle before a lucky winner is drawn. Proceeds from the raffle will go towards St Oswald's annual fundraising target of £7 million, which must be raised through voluntary giving.
The £46,000 raised from last year's raffle has been put towards St Oswald's Hospice transport services, which transport patients and their carers to and from appointments, along with transporting essential medical equipment and delivering prescriptions. Last year, its team of 63 volunteer drivers responded to more than 18,000 requests, ensuring patients were able to keep their appointments and receive their medication on time.
Bristol Street Motors Fleet and Commercial sales team have also helped the Hospice by providing specialist fleet advice and negotiating significant savings with the Ford Motor Company, on behalf of the hospice. Negotiating for the Hospice to receive charitable status on five new delivery and collection vans has saved the charity more than £4,000 on leasing costs.
Raffle tickets are just £1 and can be purchased at Bristol Street Motors Vauxhall dealerships in Newcastle, Sunderland, and Hexham, at any St Oswald's charity shops, at various events across the region and online at www.stoswaldsuk.org. The winning ticket will be drawn at St Oswald's Christmas Market on Saturday 28th November.
Robert Forrester, chief executive officer of Vertu Motors plc, said: "We are absolutely delighted to be helping St. Oswald's Hospice again this year. It's a fantastic charity that does outstanding work throughout the North East. Its army of drivers and volunteers provide vital support for the hundreds of patients the Hospice supports every year.
"I was bowled over by the figure we helped raise during the last raffle. I hope that the people of the North East will once again come out in force to support this amazing charity. We have made an annual commitment to the Hospice to provide a car each year to support their incredible efforts. "
Anita Ball, director of income and marketing at St Oswald's said: "We are proud to be working with Vertu Motors and extremely grateful to the company for their very generous donation of a car for our raffle prize! Our Annual Raffle is a key campaign in our fundraising calendar, so it's fantastic to be able to offer such a fantastic prize.
Our winner last year was over the moon to drive off with a new car, courtesy of Vertu Honda, so we hope to make another of our supporters just as happy this year. Thank you to Vertu Motors, for all of their support, from everyone at St Oswald's."