Investment in £3m in prestigious FordStore dealership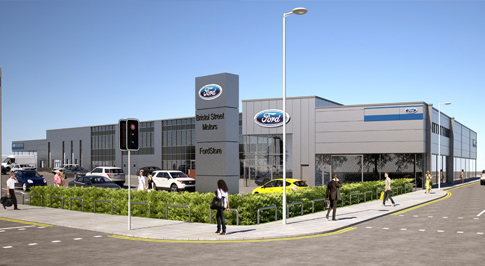 Bristol Street Motors Ford Bolton is to benefit from a £3million investment by parent company Vertu Motors plc to create a prestigious FordStore showroom.
The dealership is one of a select number of locations granted FordStore status, which makes it the only site in the region to sell the premium Ford Vignale range and the iconic Ford Mustang along with the full range of Ford vehicles.
The transformation of the Higher Bridge dealership into a FordStore will include the demolition of the existing showroom and the construction of a state-of-the art dealership, including a bespoke Vignale lounge with the latest technology to assist customers to choose and customise their new car.
The Light Commercial Vehicle showroom will also be demolished and rebuilt with the workshops being extended to include additional vehicle ramps, commercial vehicle ramps, and a further MOT lane.
The Approved Used vehicle space will be relocated and expanded offering customerseasy access and a wider choice and the customer parking area will also be increased to support the dealership's growing customer base.
A new wash and valet bay will complete the renovation, while insulated roof covering and exterior cladding and showroom glazing will be utilised to increase the energy efficiency of the buildings and reduce their environmental impact.
The multi-award winning Bristol Street Motors Ford Bolton is listed as the top rated dealership in the town by independent review website, JudgeService, which collects customer feedback across all areas of businesses, including the sales, aftersales and bodyshop departments.
Bristol Street Motors Ford Bolton is overseen by general manager, Darren Murray, who has more than 25 years' experience in motor retailing, during which time he has amassed a great deal of knowledge working across multiple departments and manufacturers.
Speaking of the refurbishment, Darren said: "It is a real honour to be selected as a FordStore and offer customers the full range of Ford products and services, including the premium vehicles.
"The significant investment will completely transform the dealership for both customers and colleagues. The fantastic new environment across all areas of the business will be complemented by our exemplary standards of service and we look forward to welcoming new and existing customers."