Knaresborough colleague wins 15th consecutive award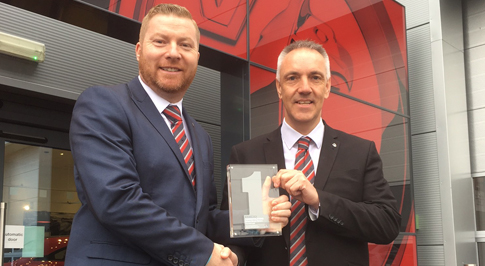 Vauxhall has rewarded a Bristol Street Motors colleague for his continued dedication and outstanding performance in the commercial vehicle market.
Jim Jakes, commercial sales manager at Bristol Street Motors Vauxhall Knaresborough, has won the British manufacturer's No.1 for Market Area Sales in 2015 - the 15th year in a row he received this accolade.
Every year Vauxhall rewards colleagues for their hard work and commitment to the franchise. Jim has received recognition for the most commercial vehicles sold in one area.
With more than 20 years' experience working with commercial vehicles, Jim has built lasting relationships with customers up and down the country and has developed a reputation for being trustworthy and helping customers find the vehicle that suits their needs.
Jim oversees a high quality stock of commercial vehicles, including the Brit-built Vivaro, which was crowned overall winner at the Business Van Awards 2016.
On winning the award for the 15th consecutive year, Jim Jakes said: "It is a great honour to be recognised by Vauxhall once again as I continue to build upon my existing customer base in the Yorkshire region and beyond.
"For me, it's all about building lasting relationships with customers and ensuring every single customer drives away from Vauxhall Knaresborough happy with the service they received.
"I thoroughly enjoy my position here at Bristol Street Motors and I will continue to do my best for all of my customers."
Nick Harding, general manager at Bristol Street Motors Vauxhall Knaresborough, said: "The award from Vauxhall is a testament to Jim's great customer service and dedication to the role.
"For 15 years, Jim has been delivering outstanding customer service to customers and I have great faith that he will continue to do so for many years to come. We are very proud to have him as part of the team at Vauxhall Knaresborough."
Gary Seddon, Vauxhall commercial vehicle development manager, added: "Jim Jakes is right at the top of the tree in his chosen trade.
"His knowledge and professionalism are second to none and his customer service is truly outstanding.
"You only have to look at the amount of customers who have bought from Jim and, more importantly, continue to do so year after year - that speaks volumes for his character and dedication.
"Nothing is too much trouble and he always has a smile on his face. Well done Jim!"