Manager makes a return to award-winning Vauxhall dealership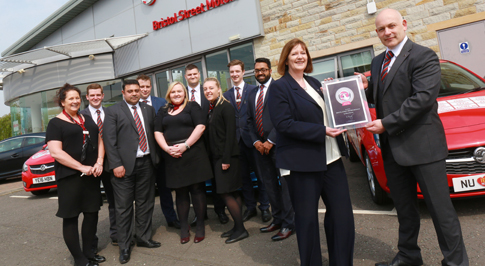 Bristol Street Motors has welcomed back Chris Catterall as general manager of its award-winning dealership in Keighley.
Chris returns to the Crosshills dealership after a short spell with Farnell Land Rover in Bradford, both of which are part of Vertu Motors plc.
He joined the motor industry as a trainee sales executive at a Peugeot dealership 18 years ago. The father-of-three was quickly promoted to business manager then sales manager at the dealership.
With experience working with Audi, Mini and Volvo, Chris joined Bristol Street Motors in 2013 as general sales manager at Vauxhall Keighley. He went on to become branch manager in July 2014, before moving to Farnell Land Rover Bradford at the start of 2016.
Vauxhall Keighley was presented with the Customer Excellence Award this month after being named as one of the top sites for customer satisfaction across the Vauxhall national network.
Every year, Vauxhall rewards the top performing retailers that have provided customers with exemplary levels of customer experience following results from the British manufacturer's satisfaction surveys.
Susan Hughes, Vauxhall's Network Development Manager, presented Chris and the team with the Vauxhall Customer Excellence Award.
On receiving the award, Chris said: "I am delighted to return to a dealership with such a talented and passionate team in place.
"It has been an honour to welcome Susan to our dealership to present the prestigious award. Customer service is a number one priority for us at Bristol Street Motors and it's fantastic to receive recognition from Vauxhall to reaffirm the hard work the team are doing every day."
The retailer was one of 53 Vauxhall retailers in the UK to achieve the highest and most impressive combined scores from Vauxhall's Purchase Satisfaction and Service Satisfaction surveys, calculated at the end of 2015.
Customers are invited to take part in the Vauxhall Customer Satisfaction programme after purchasing a new vehicle or having their vehicle serviced. Over 160,000 responses were collected last year, helping to generate an accurate picture of Vauxhall customer experience.
Peter Hope, Vauxhall Customer Experience Director, comments: "I'd like to thank the team at Bristol Street Motors for pulling out all the stops to make our customers' purchasing and servicing journey a really positive experience. Their consistent high standards and all-round performance is fantastic, and this award is a real testament to all their hard work."