MP commends dealership growth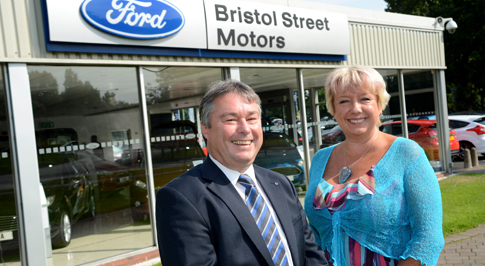 MP Karen Lumley has visited Bristol Street Motors Ford Redditch which has been transformed into a thriving, profitable business since it was acquired from the administrators four years ago.
Mrs Lumley visited to see the dealership's progress since Bristol Street Motor's parent company, Vertu Motors PLC, bought the site in 2009 – along with another Ford dealership in Worcester – when previous owners Brooklyn Motors went into administration.
Since then, the business has been completely turned around, with the dealership seeing new sales increase by 20 per cent and creating 12 new jobs to support the upswing in trade. The dealership, which sells new and used cars as well as providing servicing and parts, has also gained a commercial fleet sales department since it was acquired by Vertu, which is the UK's 6th largest motor retailer.
Business is so good at the dealership, it is now recruiting two new sales executives to join its team, which already includes five apprentices.
Paul Gething, General Manager of Bristol Street Motors Ford Redditch said: "It was wonderful to meet Karen and show her how the business, which is a long-established dealership, has been transformed by Vertu into a profitable concern, which supports dozens of jobs in the local economy, and has given five young people their first step on the career ladder.
"We are still expanding and growing our share of the market, and we're extremely proud of what we have achieved here and are absolutely delighted that this has been acknowledged by the MP for Redditch."
Mrs Lumley, who aged 18, started her career at Ford Motor Company's head office in Brentwood, Essex, as a trainee accountant, said: "It was good to meet Paul and see the excellent progress made by Vertu. The dealership employs dozens of people in good quality jobs and I myself remember the huge value in working as a trainee, learning skills and then being able to move forward in life. I am sure from speaking to staff that the dealership has a bright future ahead. "