National Award For Durham Service Manager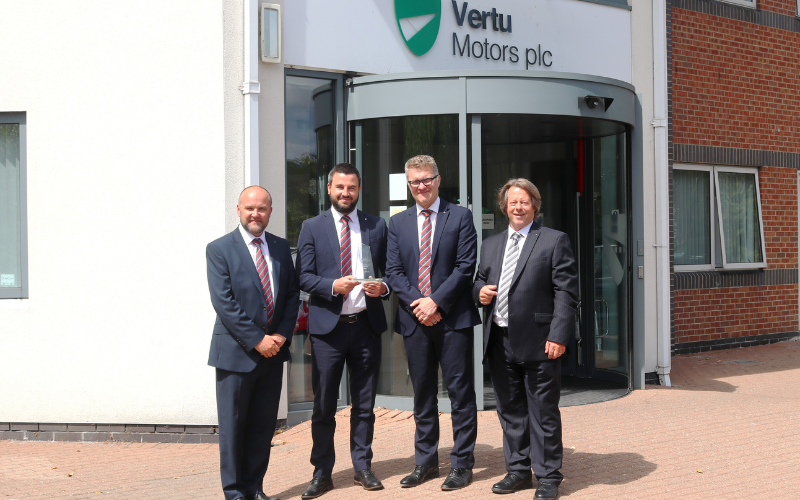 Danny Birkett, Service Manager at Vertu Durham Honda, has been recognised for his outstanding performance with a national award.
Vertu Motors plc announced the winners of its prestigious 2021 CEO Management Awards, which acknowledge colleagues who have performed exceptionally well and delivered the highest levels of leadership throughout the year, naming Danny as Service Manager of the Year.
Nominations are made by Operational Directors to the Group's Board, which selects a winner for each category.
On joining the company, Danny took part in the Vertu Evolution programme, an 18-month formal programme of learning and development, which equips participants to realise their ambitions and deliver exceptional performance and financial leadership in the future.
Calum Thomson, Aftersales Director at Vertu Motors plc, said: "Danny is without doubt one of the most consistent leaders we have had the pleasure of working with.
"He has a genuine ability to relate to customers, technicians, service advisors and the wider dealership team. Danny is a high performing service manager who has consistently delivered on every measure this year. Congratulations, Danny!"
Unable to attend the award ceremony because his wife was in labour, Danny has now been presented with his award by Calum Thomson, in addition to Divisional Aftersales Director, Gavin Drakes and Chief Executive, Robert Forrester.
Robert Forrester, Chief Executive of Vertu Motors plc, said: "Danny was the first Vertu Evolution graduate for the Honda division, and it has been a pleasure and privilege to watch him grow as a leader over the last few years.
"2021 was a challenging period that demanded high levels of drive, passion and resilience, alongside effective and supportive leadership.
"I am very proud of what we achieved during the year and the commitment of all colleagues has been key to this. To single out any individuals was incredibly difficult, but all the winners, including Danny, have gone above and beyond expectations, demonstrating the unteachable values we strive for across the Group - Talent, Drive, Energy, Attitude and Character. Well done, Danny!"
Photo caption - Left to right, Gavin Drakes Divisional Aftersales Director, Danny Birkett, Robert Forrester Vertu Motors plc CEO, and Calum Thomson Group Aftersales Director