National Award For Edinburgh Apprentice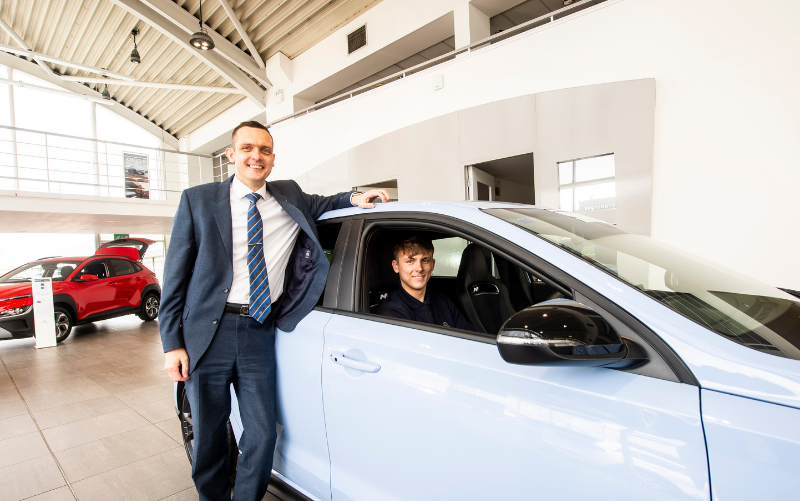 Dougie Lyall, an Apprentice Technician at Macklin Motors Edinburgh East Hyundai, has won a national award for his outstanding work.
He was named Vertu Masters Club Apprentice Technician of the Year, after being nominated by the dealership's General Manager, Mark Littlejohn.
Since joining the team three years ago, Dougie has been praised by Mark for demonstrating a fantastic work ethic and commitment to his progression.

Mark Littlejohn, General Manager of Macklin Motors Edinburgh East Hyundai, said: "Dougie is a model apprentice and is well on his way to becoming a great Technician. Dougie will embark on his fourth year of training after the summer and the work he has put into his knowledge development, thus far, has been exceptional.
"He is passionate, hardworking and shows a real willingness to develop his skills to help grow his career. Dougie is a valued member of the workshop and has taken all his studies and learning very seriously."
This year Vertu Motors plc, the motor retail group the Macklin Motors brand belongs to, has welcomed 26 new members into its Masters Club, which is a nationwide recognition programme that identifies and celebrates the achievements of high-performing colleagues across its 159 dealerships.
The winners were selected from nominations made by their colleagues and managers, with a focus on professionalism, commitment, respect, passion, and integrity, as well as performance-based league tables.

Robert Forrester, Chief Executive of Vertu Motors plc, said: "Recognition is one of our Group's core values and the colleagues we have inducted into our Masters Club, including Dougie, are an inspiration to their colleagues.
"Dougie has demonstrated a fantastic thirst to learn and develop, a passion and an attention to detail that are second-to-none, leading to him becoming a much-valued member of the dealership's workshop team.

"All of these attributes contribute to ensuring our customers have an outstanding experience when doing business with us.
"Congratulations, Dougie. We look forward to celebrating with you and our other award-winning colleagues at a special event later in the year."