National Award For Glasgow Motor Dealership Valeter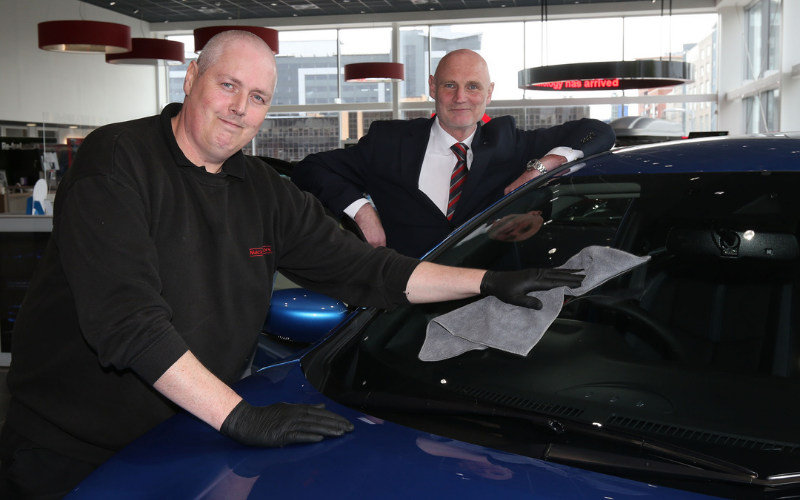 Roger Allen, an in-house Valeter at Macklin Motors Glasgow Central Nissan, has won a national award for his outstanding work.
He was named Vertu Masters Club Valeter of the Year, after being nominated by the dealership's General Manager, Chris McKenzie.
Roger has been particularly praised for taking command of both the quality of vehicle cleans and the quantity his team takes on.
Chris McKenzie, General Manager of Macklin Motors Glasgow Central Nissan, said: "Roger remains calm under pressure, even when the team has a large intake of vehicles. He always finds a way of cleaning the cars to the highest standard."
"Roger contributes with ideas to make the dealership a better place and is an invaluable member of the team. The quality of work from the valet team, who are led by Roger, is second-to-none and the envy of many other dealerships."
This year Vertu Motors plc, the motor retail group Macklin Motors belongs to, has welcomed 26 new members into its Masters Club, which is a nationwide recognition programme that identifies and celebrates the achievements of high-performing colleagues across its 159 dealerships.
The winners were selected from nominations made by their colleagues and managers, with a focus on professionalism, commitment, respect, passion and integrity, as well as performance-based league tables.
Robert Forrester, Chief Executive of Vertu Motors plc, said: "Recognition is one of our Group's core values and the colleagues we have inducted into our Masters Club, including Roger, are an inspiration to their colleagues.
"Roger's award demonstrates how equally important both behind the scenes and front-facing colleagues are when it comes to providing exceptional customer service. His work ethic and desire to contribute to the smooth-running of, and high levels of service at, the dealership are exemplary.
"Well done, Roger. We look forward to celebrating with you and our other award-winning colleagues at a special event later in the year."