National Award For Nottingham Motor Dealership Technician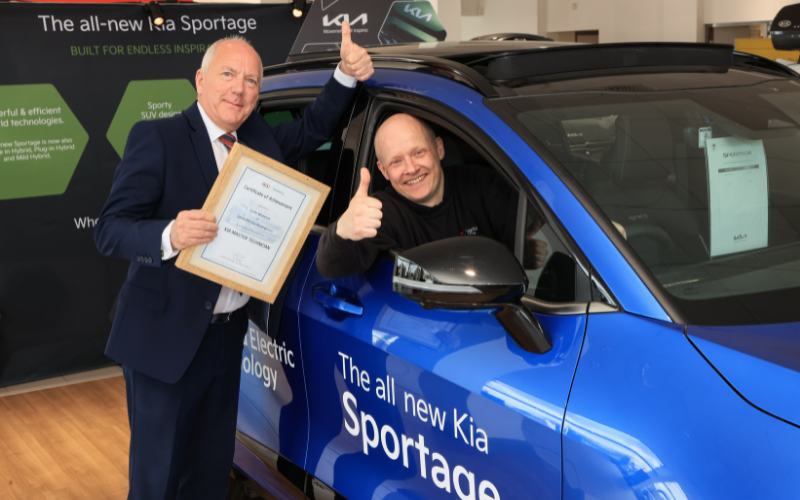 Justin Whitehall, a Master Technician at Vertu Kia Nottingham, has won a national award for his outstanding work.
Justin was named Vertu Masters Club Master Technician of the Year after being nominated by Gavin Drakes, Group Divisional Aftersales Director.
Gavin Drakes, Divisional Aftersales Director at Vertu Motors plc, said: "Justin is an outstanding technician, who always delivers the highest levels of performance, and consistently exceeds all the targets set by his manager.
"Justin has a great attitude, outstanding work ethic, and is always willing to help and support his team. He is an excellent coach and mentor to the apprentices and all his work colleagues.
"Justin works very closely with the Kia brand and always supports his service advisors to ensure all our customers go away with the confidence that their vehicle has been repaired to the highest standard. His performance all year has been commendable."
This year Vertu Motors plc has welcomed 26 new members into its Masters Club, which is a nationwide recognition programme that identifies and celebrates the achievements of high-performing colleagues across its 160 dealerships.
The winners were selected from nominations made by their colleagues and managers, with a focus on professionalism, commitment, respect, passion and integrity, as well as performance-based league tables.
Robert Forrester, Chief Executive of Vertu Motors plc, said: "Recognition is one of our Group's core values and the colleagues we have inducted into our Masters Club, including Justin, are an inspiration to their colleagues.
"Justin has demonstrated exceptional commitment and professionalism that helps ensure our customers are guaranteed phenomenal service when it comes to car repairs and maintenance.
"Our workforce of the future is in good hands with Justin being such an excellent mentor and role model to his colleagues.
"Congratulations, Justin! We look forward to celebrating with you and our other award-winning colleagues at a special event very soon."