New Partnership Brings Exhibition Success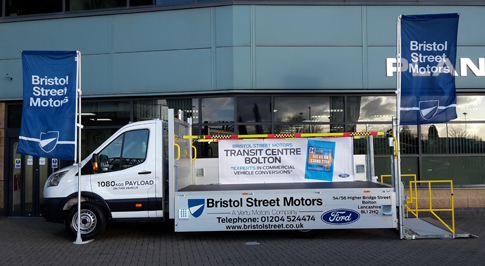 This year saw the successful return of Bristol Street Motors Ford Bolton to the Executive Hire Show, this time with an exclusive brand new model and a brand new partner in the form of Brit-tipp.
Bristol Street Motors Ford Bolton debuted its new Executive Hire Ford Transit model, which, thanks to Bristol Street Motors' new partnership with leading commercial vehicle body converter, Brit-tipp, is the first model from the Higher Bridge Street dealership to be able to carry a tonne payload.
The three man team, commercial department sales executives Paul Candy and David Walters, commercial & corporate sales manager, Chris Jones, and Brit-tipp director, Paul Price, had pride of place at the show with two display models positioned at the north and south entrances.
A much more developed version of the pre-existing Gordon's model, which was much-favoured by the likes of executive hire specialists Speedy Hire and Brandon Hire, the highly-equipped Executive Hire Model features a whole raft of modifications that are designed with trade customers in mind.
Based on the Ford Transit Chassis Cab, the rear section of the body has been replaced with a lightweight 13-foot 6-inches aluminium drop-side body with 24-inch anodised aluminium drop sides, reversed to close any gaps and fitted with access steps, which, along with the lightweight 500kg tail lift and upgraded suspension, means that owners can load, transport and unload up to a tonne quickly, safely and efficiently.
The Executive Hire Model also comes with a range of handy features designed to improve safety and practicality. These include a rubber-clad anti-slip ladder gantry with secure grab handles, V-grooved chocks with four pairs of tie points and a chassis-mounted, lockable tool box.
If the Executive Hire Model doesn't tick all of the boxes, the dealership's specialist commercial team can work with customers to design a unique commercial vehicle tailored to fit exact specifications thanks to computer aided design (CAD) technology, a fully-equipped workshop and extensive partnerships with recognised industry leaders, such as Brit-tipp and other local, and international, parts suppliers.
Whether it's a one man operation looking for a small van, a building contractor or a nation-wide plant hire company, and whatever the budget, Bristol Street Motor Ford Bolton's huge range of new and used commercial vehicles has everything from the Ford Fiesta Van, to the Executive Hire Model and everything in-between, available on hire purchase, contract hire and other payment plans to help you get businesses on the move.
Chris Jones, commercial & corporate sales manager at Bristol Street Motors Ford Bolton, said: "We had a fantastic time at the Executive Hire Show. It was great to catch up with existing customers and forge relationships with new ones.
"We were in a great position and were the first port of call for a lot of attendees as they arrived at the show. The fact that the Executive Hire Model can take a tonne payload became a bit of a talking point at the show as many businesses have to use other vehicles to move equipment and goods that aren't as economical to run, insure and maintain as the Executive Hire Model, or have to make several trips using a vehicle with a smaller load capacity.
"Most people were surprised to learn that whatever they're looking for we have the capability to create the perfect vehicle for them thanks to our fantastic team of technicians and partnerships with companies, such as Brit-tipp and Del Tail Lifts, which also allows us to offer highly competitive prices and payment packages for businesses."