Newcastle Vauxhall says farewell to colleague of 46 years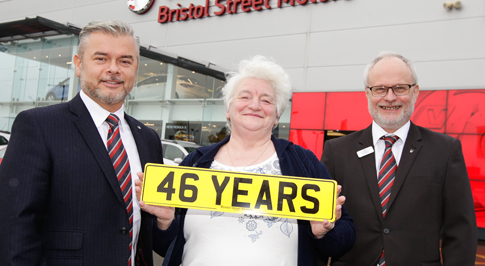 Bristol Street Motors Newcastle Vauxhall has said an emotional farewell to one of its most valued and experienced colleagues.
Joyce Scott has retired after 46 years in the Scotswood Road Vauxhall dealership's parts department. She joined the dealership in 1970 at the age of 22 as a van driver and then moved to an administrative role, co-ordinating the parts orders for the busy service department.
Joyce first started working as a van driver collecting parts for the business in 1970, aged 22. Following six years in that position, she switched to an office-based role ordering different parts for the dealership's busy workshop.
Joyce explained the changes during her time in the motor industry: "The use of technology has been the most noticeable difference across the industry. When I first started as a van driver, I had to visit different suppliers and collect whatever it was we needed. Now we have an online-based system which lets us order anything and to arrive the next day. Technology has moved on so much, I remember when we used Telex, but nowadays most of my colleagues have never even heard of it!"
After punching her last timeslip, Newcastle-born Joyce is looking forward to making the most of her free time to spend more time with family and decorating the bungalow to which she has just moved. Joyce is keen to take up walking now that she has more spare time, and she also plans to turn her attention to the garden of her new home.
To thank her for her long service, Mark Flynn, the general manager of Bristol Street Motors Newcastle Vauxhall, presented Joyce with a cheque and an award in recognition of her loyalty to the dealership.
Mark Flynn said: "Joyce will be sorely missed by all of the team. She has a wealth of knowledge, which is valued by everyone at the dealership, but the parts department in particular consider her advice as gospel. I hope she doesn't become a stranger and calls in to see us when she passes by. We wish her all the best in her retirement."
Joyce added: "I've had a wonderful time at Bristol Street Motors Vauxhall Newcastle. I've worked with many of my colleagues for years and I know that I will miss them, so it's difficult to say goodbye. I've promised that I'll pop back every now and then during their lunch break for a cup of tea and a catch up."