Parts Manager in spinathon fundraiser for Children in Need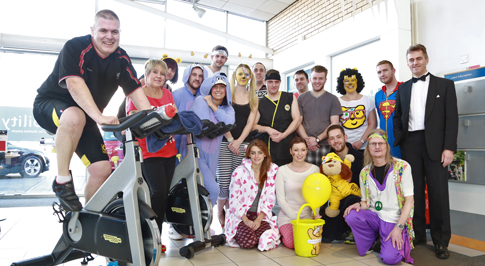 A budding fitness enthusiast from Vertu Volkswagen Lincoln has taken 'working 9 to 5' to a whole new level in a bid to raise money for Children in Need.
Parts Manager, Robert Bratley, 52 decided to set himself the target of a non-stop ten hour spinathon from 8:00am until 6:00pm in order to raise money for the national charity.
Located on Outer Circle Road, the dealership was visited by two fitness instructors to assist Robert with his efforts and put him through grueling spin classes throughout the day.
Robert, who is celebrating 20 years working for Volkswagen this year has spent weeks preparing for the event, however his previous record was a fourhour spinathon. Stopping only for comfort breaks, Rob survived the day by eating bananas and constant moral support from colleagues and customers.
Throughout the day, colleagues at the dealership also joined in the spinathon as well as organising other events such as chest waxing, raffles and cake sales, raising a significant amount for Children in Need.
Robert said: "When I decided to do the challenge I knew it would be tough, with a previous record of four hours I wanted to do something really special for Children in Need. I was determined to complete the challenge I had set myself and everybody at the dealership was fantastic in supporting and encouraging me throughout the day.
"There were times when I doubted whether or not I could finish it but I am really proud that I have managed to complete the target I set myself and raise money for a very worthwhile charity at the same time.