Redditch Mazda joins local Christmas Foodbank Appeal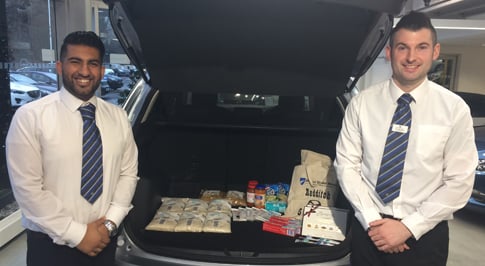 The team at Bristol Street MotorsRedditch Mazda are transforming their showroom into a donation drop-off point over the Christmas period to help collect donations for a local charity.
The team at the Mazda dealership on Battens Drive has turned a car into a drop-off point, where customers and members of the public can leave food donations for the Redditch Foodbank.
To help out over the busy Christmas period, Bristol Street Motors Redditch Mazda is asking for non-perishable donations including cereal, tea, coffee, canned soups, pasta, rice, tinned food (including meat, vegetables and fruit) and biscuits. Essential non-food items such as toilet rolls, toiletries (including toothbrushes and toothpaste) and general hygiene products will also be gratefully received.
Helen Price, sales manager at Bristol Street Motors Redditch Mazda, said: "Christmas is the perfect time for giving and we are extremely proud that the team at Bristol Street Redditch Mazda, our customers and members of the public will help spread the joy of Christmas to local people in crisis.
"We hope to fill the boot of a Mazda CX-5sleigh and once filled, Father Christmas will drive the Mazda to deliver the gifts to the Redditch Foodbank with the help of his little elves!"
Redditch Foodbank Project Manager, Sarah Barcham from, said: "We are extremely grateful to the team at Bristol Street Motors for holding their Christmas Gift Appeal and for spreading some joy this Christmas. Christmas can be a difficult time for some, however with the help from the dealership and all the kind donations from members of the public, we can bring some Christmas cheer and festive spirit to those in need this year."
The Christmas Gift drop-off point at Bristol Street Motors Redditch Mazda is open until 18th December. The donations will be delivered by the Christmas team from Bristol Street Motors Mazda Redditch Mazda to the Redditch Foodbank on 19th December.