Renault Recognises York Motor Trade Professional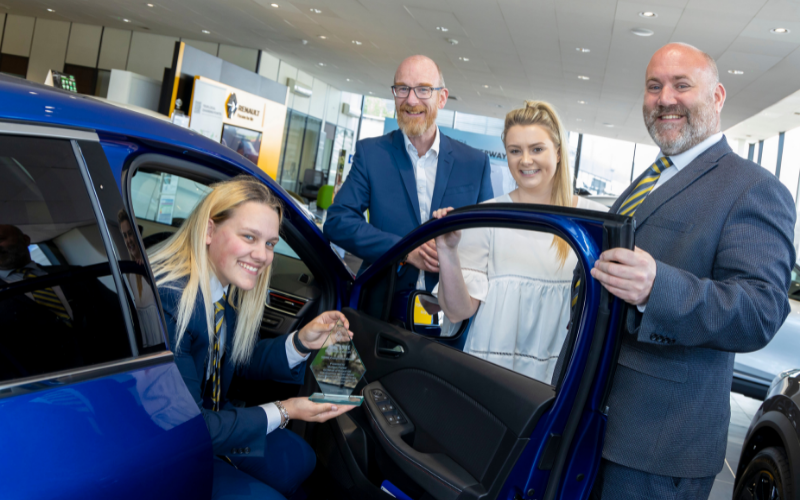 The hard work, enthusiasm and winning personality of Morgan Parker, a Sales Advisor at Bristol Street Motors York Renault, has been recognised by the manufacturer as part of its global 'DSIRE' program.
Morgan received a trophy and a letter of commendation for her involvement in the pilot stage of Renault's DSIRE training programme, which will now be rolled out to all 134 countries where it has a presence.
DSIRE is a new 12 week-long training programme created by Renault Dacia, which uses 'pedagogical learning' to transform new and inexperienced dealership colleagues into customer experience experts. By building on layers of gradual knowledge acquisition and application, the DSIRE training aims to support Sales Executives. DSIRE training teaches them how to better guide a customer through their buying journey, from the moment a customer arrives to driving off the forecourt, with a focus on connecting on an emotional level.
Holly Nicholls, Network Training and Development Manager for Renault UK, said: "Morgan went above and beyond, showing great passion to learn and get the most from the training. With her keen dedication and enthusiasm, I'm sure she has a bright future ahead in the motor trade and I look forward to seeing how her career progresses"
Tom Wash, General Manager at Bristol Street Motors York Renault, said: "It doesn't surprise me that Morgan made such an impression on the DSIRE trainers at Renault. She is full of energy and enthusiasm and is always going that extra mile to help put a smile on customers' faces.
"There is no doubt she is a huge asset to the business and a valuable part of our team. Since completing her training, Morgan's confidence levels and performance have rocketed. She is now one of our very top performing team members and colleagues come to her to ask her advice despite being relatively new to the industry."
On receiving her award, Morgan Parker said: "I'm very proud to receive this award from Renault. It's great to hear that I made such an impression on the training team and that the DSIRE programme is going worldwide.
"The best part of my job is helping people and I always try to make sure that they leave the dealership happy; it's just who I am. This award is validation that I really am on the right path for a great career with Bristol Street Motors."