Vauxhall Sunderland recognised for outstanding service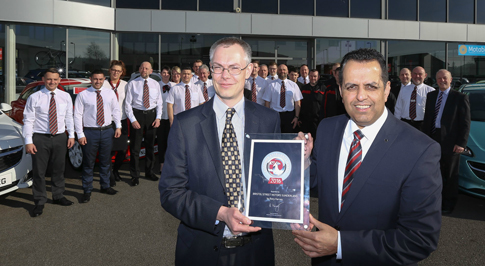 Bristol Street Motors Vauxhall in Sunderland has been recognised with a national award for excellent customer service.
The Alexandra Avenue dealership team was presented with the Customer Excellence Award after being named as one of the top sites for customer satisfaction across the Vauxhall national network.
Every year, Vauxhall rewards the top performing retailers that have provided customers with exemplary levels of customer experience following results from the British manufacturer's satisfaction surveys.
Tim Hammond, regional operations director of Vauxhall Motors, presented Jass Singh, general manager at Bristol Street Motors Vauxhall Sunderland with the prestigious accolade.
Jass Singh said: "The team at Bristol Street Motors Vauxhall Sunderland are incredibly proud to win this Customer Excellence Award and are pleased to be recognised for our dedication to delivering an outstanding customer experience.
"We look forward to continuing our award-winning approach to business and customers in the coming year."
"It is fantastic to receive confirmation that our customer service truly is the best and is in line with our wider company values of commitment and integrity."
The retailer, which is part of Vertu Motors plc, was one of 53 Vauxhall retailers in the UK to achieve the highest and most impressive combined scores from Vauxhall's Purchase Satisfaction and Service Satisfaction surveys, calculated at the end of 2015.
Customers are invited to take part in the Vauxhall Customer Satisfaction programme after purchasing a new vehicle or having their vehicle serviced. Over 160,000 responses were collected last year, helping to generate an accurate picture of Vauxhall customer experience.
Peter Hope, Vauxhall Customer Experience Director, comments: "I'd like to thank the team at Bristol Street Motors for pulling out all the stops to make our customers' purchasing and servicing journey a really positive experience. Their consistent high standards and all-round performance is fantastic, and this award is a real testament to all their hard work."
To celebrate their outstanding effort, the retailer has been presented with a plaque celebrating their accolade, which has been placed on display at the dealership. Additionally, the Vauxhall dealer locator will display a special logo next to their name, with all staff receiving commemorative badges.