Vertu Motors Spitfire Colleague On Cloud Nine After Receiving Rare Polish Award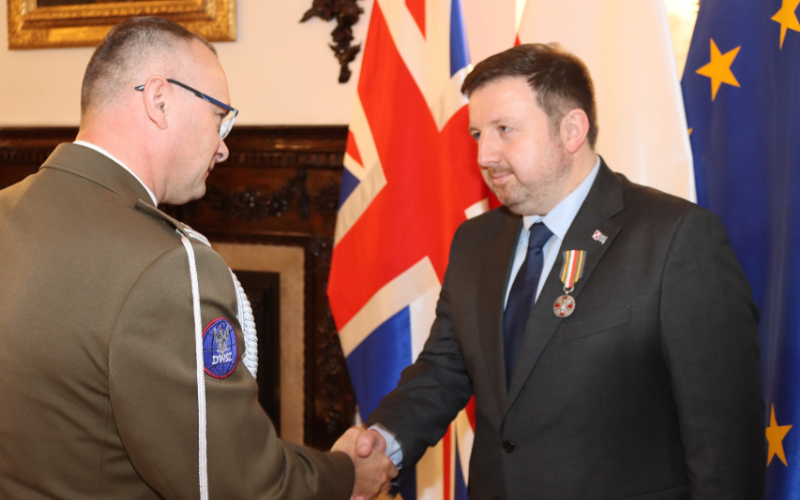 Vertu Motors plc's Regional Finance and Insurance Development Manager, Derek Rusling, has been awarded the Silver Medal of the Polish Army for his voluntary work maintaining a Hawker Hurricane and Supermarine Spitfire, with the Polish Heritage Flight.
At a ceremony in London, the Polish Heritage Flight team received one of Poland's most prestigious military awards, the Silver Medal.
Formed in 2019, the Polish Heritage Flight team is operated by volunteers, including Derek Rusling, based at the Imperial War Museum in Duxford. The project aims to bring to life the stories of the people that came to the 'Island of Last Hope' to take up the fight from Britain and throughout the Second World War.
Despite none of the volunteers originating from Poland, their hard work was recognised by the Polish Ambassador and Defence Attaché from the country's embassy in London.
Derek Rusling, Finance and Insurance Development Manager for Vertu Motors plc, said: "Alongside my busy day job working with Vertu Motors, in my spare time I'm privileged to be able to help look after and operate these symbolic aeroplanes. We didn't know much about the Polish story initially, but through much research, we learnt of the brave and inspirational story that we now try to tell - keeping it alive using these historic and iconic aeroplanes.
"It's a huge privilege to receive the Silver Medal and I'm aware of the incredible weight this award bares. We accept this award with the utmost humility on behalf of the Polish people.
"The support I've had from my colleagues within the Vertu Motors group has been fantastic, especially using the Spitfire in a television advert earlier this year. I am a very proud Vertu Colleague."
Robert Forrester, Chief Executive of Vertu Motors plc, said: "It is brilliant to see Derek's incredibly important work recognised at one of the highest levels by the Polish Government. Everyone across the Group is incredibly proud of Derek and his work in highlighting such an important story."