Another 'Bronze' for Medal Winner Paul Foster MBE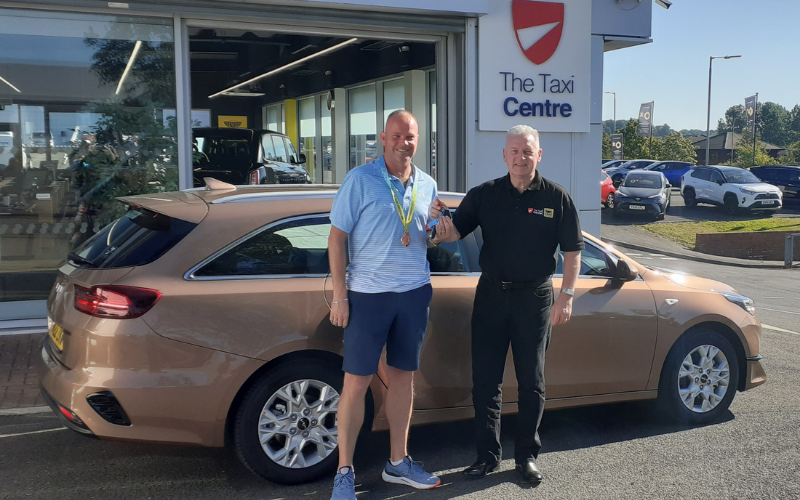 Scottish Commonwealth Games medal winner Paul Foster MBE has taken ownership of the latest vehicle for his firm 8'Ees Cabs – a bronze Kia Ceed Estate to match his latest medal.
The multiple Lawn Bowls world champion took bronze at the 2022 Commonwealth Games in Birmingham, to add to his four Gold medals won in the pairs and fours events in 2006, 2014 and 2018.
In addition to his bowling career, Paul is a partner in the Troon-based taxi firm, which is a longstanding client of The Taxi Centre, part of the Vertu Motors group, which supplied the latest car.
Since it started serving independent taxi drivers and firms in 2001, the Glasgow-based The Taxi Centre has sold more than 30,000 vehicles directly to customers. Cars and minibuses provided by The Taxi Centre have been purchased by firms and drivers in towns and cities throughout the UK, with many customers regularly returning to replace their vehicles.
In 2020, The Taxi Centre invested £100,000 in a new location on Kennishead Road in Glasgow, offering customers a dedicated indoor showroom for the first time and allowing it to expand its team into double figures.
Stephen Porter, Branch Manager at The Taxi Centre, who has worked within the company since its first day of business more than 20 years ago, said: "Paul is a Scottish sporting hero and it has been a pleasure working with him, and with 8'Ees Cabs, to provide the firm with its vehicles.
"I really hope the people of Troon enjoy seeing the bronze Kia travelling around the local area, and perhaps even being driven by a bronze medallist."
Paul Foster MBE said: "It really had to be a bronze car to match my latest medal!
"The Taxi Centre is fantastic to deal with and has been providing 8'Ees Cabs with vehicles since well before my time in the business. I hope the next taxi they sell me is gold!"
Photo caption - Gary Ranson, Sales Executive with Paul Foster MBE