Vertu Motors Donates To Sunderland AFC Mental Health Hub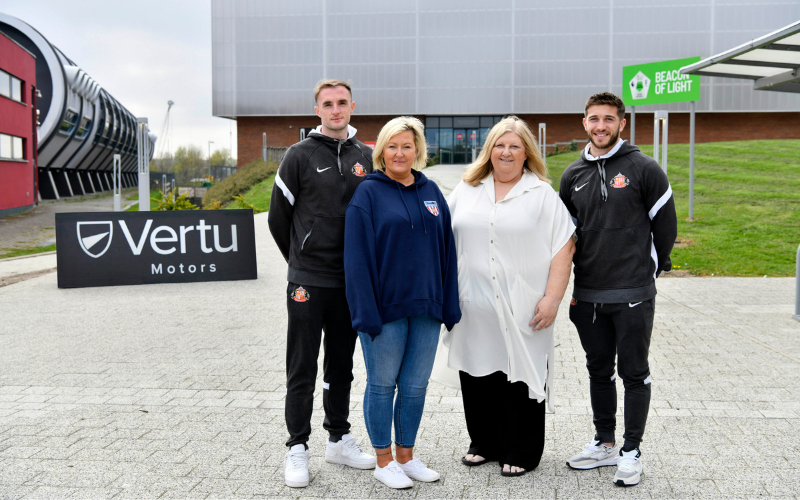 Vertu Motors, the Gateshead-based motor retail brand, has made a donation to Sunderland AFC's Matchday Mental Health Hub to support the continued running of the essential service.
The Matchday Mental Health Hub, the first of its kind in the UK, is provided by Sunderland's Branch Liaison Council and Washington Mind and is a service which offers a free, informal and confidential drop-in service for home and away supporters on SAFC home matchday.
Based at the Beacon of Light, the service is hosted by trained counsellors from Washington Mind and a trained volunteer from the BLC offering support to fans in a relaxed and welcoming environment.
To recognise the work of founders Cath Reid and Joanne Youngston, Vertu Motors created an event with Sunderland AFC footballers Lyndon Gooch and Carl Winchester to present the donation and discuss the importance of looking after your mental health. They also spoke about their own experiences of suffering mental ill-health.
After the discussion, the footballers also presented the founders with a thank you gift, on behalf of Vertu Motors, for initiating the Hub and for delivering vital support to so many already.
Carl Winchester, said: "Coming here today to see what's going on is brilliant. For me, I know what it's like going through tough times because I have in the past. My best friend killed himself five years ago, so it's great to see that people can come and talk to people about this sort of thing and know they're being heard. To see what Cath and Joanne are doing for people is brilliant."
Cath Reid, Branch Secretary of the SAFC Branch Liaison Council, commented: "We at the BLC wish to thank Vertu Motors for their generous donation to our Matchday Mental Health Hub. This donation will not only help to continue the existence of our Matchday Mental Health Hub, but will also help to fund new initiatives we are working on and will be announcing shortly.
"We're proud to have been the first supporters group and football club in the country to provide such an essential support for football supporters attending games at the Stadium of Light.
"Sunderland football club means a great deal to us fans and we will continue to use the love of football and community spirit to change the conversation around mental health."
Robert Forrester, Chief Executive of Vertu Motors, added: "As the official car retailer of Sunderland AFC, we want to utilise our partnership in ways where we can support the local community as an extension of our relationship with the club.
"We are in awe of what Cath and Joanne have managed to achieve with the Mental Health Hub.
"Looking after your mental health is paramount to your happiness in life and we just wanted to show our thanks to them for their continued hard work in helping supporters from across the league achieve this. The Hub is now a crucial fixture on any Sunderland AFC matchday, and we want to see it continuing for years to come."
The Mental Health Hub has been so successful to date that other clubs, including those in the Premier League, have sought advice and information from Sunderland AFC on establishing their own offering for supporters at their home grounds.