Macklin Motors Paisley picks up Guild of the Gold Lion Award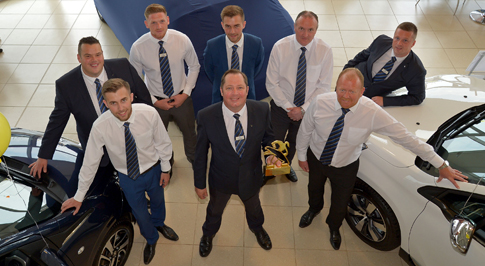 A Peugeot dealership in Paisley has received a prestigious award for delivering outstanding customer service.
Macklin Motors Peugeot has won the Guild of the Gold Lion Award after customers voted it one of Peugeot's top UK dealerships across the manufacturer's network of more than 280 sites.
The dealership at Phoenix Retail Park has been awarded by Peugeot based on customer satisfaction across all of the key business areas, including sales, Aftersales, parts and servicing.
Tony Stevenson, general manager of Macklin Motors Peugeot Paisley, said: "We're very pleased to have received such a prestigious award from Peugeot. It's a sign that we are providing the excellent customer service that Macklin Motors is renowned for.
"Customer feedback is very important to us and we are always looking for ways to improve on customer experience. This award is a fantastic accolade to the dealership and we hope to receive many more in the future."
Mark Mitchell, zone sales manager of Peugeot UK added: "I would like to congratulate Macklin Motors Peugeot Paisley for winning our prestigious Guild of Gold Lion award. Anthony and his team have been rewarded for their fantastic performance in sales and providing a great customer service to our customers"