Nissan Glasgow celebrates local photographer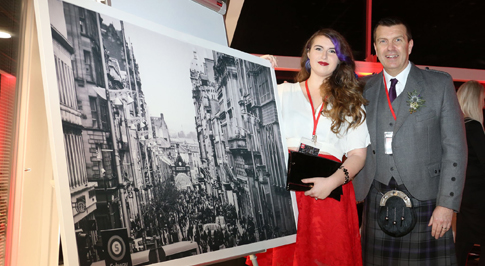 Macklin Motors Nissan Glasgow Central has helped spur on an amateur photographer and her business after selecting her image as one that best represents the 'spirit of Glasgow'.
Sherrie Higgins, 25, from Glasgow, won £1000 after entering the dealership's #MyGlasgowGallery competition, a challenge to local photographers to capture an image which they felt represented the spirit of Glasgow. Sherrie's image of Buchanan Street was selected by an independent judge from more than 400 entries and now hangs in pride of place in the dealership.
The former teacher only took up photography seriously after her fiancé, Alistair Stewart, 28, also from Glasgow, bought her a camera to take on their holiday to Lapland, where he also asked her to marry him. Now she has turned a hobby into a career following the launch of Shots by Sherrie, the Glaswegian's very own photography business.
Macklin Motors launched the #MyGlasgowGallery competition in the run-up to the opening of its Port Dundas Road dealership, which was officially opened by Nissan brand ambassador and Olympic legend Sir Chris Hoy in December following a year-long construction project and an investment of more than £5million by parent company, Vertu Motors plc.
Sherrie said: "I was so pleased to be told that I won the competition. To be invited to the official opening to receive my prize and see my photo printed on a large canvas in the dealership was the icing on the cake.
"The brief for the competition was to capture an image which best represented the spirit of Glasgow and to me the photo I took of the busy Buchanan Street does just that. It could be Glasgow on any given day.
"I've enjoyed taking photos ever since Alistair bought me the camera, but winning this competition has given me confidence to really get stuck into my new business venture, Shots by Sherrie."
Robert Auld, general manager of Macklin Motors Nissan Glasgow Central, congratulated Sherrie on her win, saying: "We had some fantastic entries to the My Glasgow Gallery competition covering many different aspects of the city and its people. Sherrie's image of the famous Buchanan Street really reflects the pace of city life and shows the mix of old and new we have here in Glasgow, with the modern vehicles and shops on a street of buildings built many, many years ago. I'm pleased to say we've had the image enlarged and it now has pride of place hanging in the dealership.
"I wish her all the best in her new business venture and hope that the prize money helps her with start-up costs."